Burke — On the surface, The Yarn Barn on Old Burke Lake Road is a knitting and art store with an interior that is proud to be "old school," and an owner that is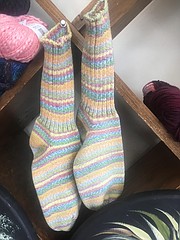 proud of not being tied to her email. In fact, she doesn't even have an email account. But on Saturday morning and Wednesday evenings, she hosts a knitting group, and charges a minimal "tush fee," for students, friends, knitters and crochet artists to come in, knit, and solve the world's problems.
"Whatever anybody wants to talk about, we cover it all," said owner Penny Sanford, a Burke resident since 1976.
Sanford and her mother, Sally Roberts, started the store in 1978 over in the Kings Park Shopping Center. She moved to her current location in the old Burke Shopping Center in 1998, before the bridge was built that carries Burke Lake Road over the shopping center and eliminating an at-grade railroad crossing that Burke was built around.
INSIDE THE SHOP, there are handmade socks, shawls and sweaters draped around, some for sale and others just create the ambiance. The Saturday morning group grabs a cup of coffee at the 7-11 a few doors down, grabs their knitting needles, and lets the ideas fly. What comes out of it is "art to wear," Sanford said. "It's very satisfying to make your own clothing, you can't find that in a store," she said. Patie Bradford has been taking classes for a few years,and likes the no-frills approach. "The atmosphere is old fashioned and personable, which in today's fast paced world, especially in the DMV metro area, is badly needed," she said in an email.
There was one knitter that suffered a stroke but has the knitting group to help her out, and another student that got so good at knitting after the lessons, he knitted two sweaters in the time most people only get one done. "I take everybody under my wing," Sanford said.
Bradford appreciates Sanford's approach. "You slow down and enjoy the friendliness of the environment and the other knitters," she said.
When some of the knitters want to get a pizza from Fired Up Pizza next door, there's an old fashioned approach to that too. "When your order is ready, they bang on the wall three times to signal that your order is ready for pick-up," said Bradford. Fired Up manager Mary Ellen Van Nederynen makes it convenient for the knitters. "So they don't have to guess when it's ready, we just bang on the wall," she said.
The whole shopping center is like that. When "Dalbir," the manager of 7-11 needed change for a $20 bill one day, he came in and asked Sanford. "We all help each other," she said.
SANFORD has a spot on her counter where she collects business cards, and acts as the central liaison for networking. There's a guy named Omar who cuts everybody's grass, via the networking group. That way, they have more time for knitting, according to Sanford. "That's what I do," she said.
She offers knitting lessons, and has a few classes each week with students from Burke, Centreville and even Maryland. "My students come from all over," she said.
The atmosphere, the camaraderie and productivity are all part of The Yarn Barn. "I want people to go out of here feeling good," she said.
The Yarn Barn is located at 9413-C Old Burke Lake Road, Burke, Tel: 703-978-2220.