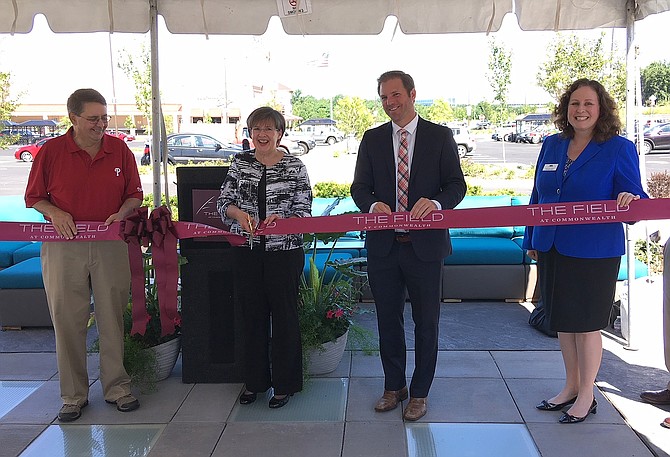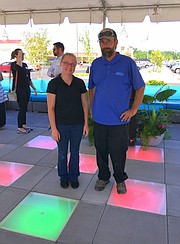 Sure, area residents know about the new Wegmans that opened recently in Chantilly. But the shopping center it's in, The Field at Commonwealth, offers restaurants and other businesses, as well, plus unique amenities.
And on July 18, local dignitaries and representatives from the developer, Regency Centers, gathered for the official ribbon-cutting. They also got their first look at a new, interactive, dance and light floor built into the community courtyard between Mellow Mushroom and a future restaurant there.
"Fairfax County is one of the most vibrant and diverse markets," said Nathan Bath, Regency Centers' senior manager of investments. He also stressed how grateful the developer was for the county's support of this new shopping center. And he thanked Supervisor Kathy Smith (D-Sully) for her longtime, "community care and stewardship."
Stepping to the podium, Smith said, "It's so exciting to be here on such a beautiful day. This is a great space for the community. There really is no gathering place for people in the Sully District, so this creates that space."
Furthermore, she said, "There are great restaurants here with outdoor seating." She also noted that the under-construction Preserve at Westfields — which will contain 155 townhouses and 650 apartments — will also bring residential units nearby in the future.
"Wegman has been a great, community partner already," said Smith. "When we had the devastating fires in Centreville, they donated food and water. And I look forward to people in Sully coming here [to the Field at Commonwealth] and having a great time."
She gave credit, as well, to former Sully District Supervisor Michael Frey, who also attended the ribbon-cutting. Said Smith: "Michael was the supervisor when we went through the Comprehensive Plan change that allowed this to be built here."
The Field at Commonwealth is geographically in the Dulles Suburban Center. So during the ceremony, Bath presented a check for $2,000 to Charlene Jones of the Dulles South Food Pantry, on behalf of Regency Centers.
He also noted some of the new businesses that will eventually join the Wegmans, Chipotle, Cava Grill, Mellow Mushroom, My Eye Dr. and Chantilly Modern Dentistry already open in the shopping center off Westfields Boulevard and Newbrook Drive. On the horizon are Habit Burger, a fast-food restaurant; Gusto Farm to Street, offering fresh salads, pizza and flatbreads; and Bella Nail Salon. "And we just signed Fearsome Yoga," said Bath. "It'll be next to Chipotle."
As for the public amenities in the courtyard, one is a Theremin Bollard — a short, thick, silver pole which is actually a kinetic sound sculpture. This interactive, sonic device creates sound from people's physical movements. All ages and abilities can interact with it, and their motions will be translated back to them as music.
"You can play it with your hands, like a musical instrument," said Bath. "It makes sounds when someone breaks the magnetic field. The closer your hands get to the music bollard, the higher the pitch. There are only four of these installed in the world — and this one in Chantilly is the only one in the U.S."
The other courtyard amenity is an interactive light floor. It contains several squares that light up and change colors when stepped on. They're also programmed to play games and respond to music levels and beats. We designed it from scratch, and it's something different and unique."
Amanda Kircher of Pixelumen Lab and Ray Jewell of CMI Companies built the floor. Kircher did the programming and Jewell did the installation. Pixelumen Creative Director Robbie Hayes designed the floor's controls and storyboard.
"This is the first one of its kind that's fully waterproof and functional," said Hayes. "And because of the software we're using, we're only limited by our imaginations in what we can offer. I can program it to react differently to varying pressures from children and adults." He can also program it to three, different, frequency bands of music or make it play the game, Simon Says. "There'll be a QR code of instructions," said Hayes. "But the hope is that, as kids play, they'll discover what they can do, themselves, on this floor."
"We're really excited about the neat features we have here," added Bath. "We're creating a sense of place where people will want to come and play. And with restaurants on each side of the community courtyard, parents can sit outside and eat while watching their children play."
Overall, the 167,000-square-foot development includes 37,000 square feet of retail space and 8,200 square feet dedicated to a full-service restaurant. It also contains walking trails and an exercise park and will feature work from local artists.
The 122,000-square-foot Wegmans food store anchoring this center opened in June. Besides The Field at Commonwealth, Regency owns 32 centers in the Washington Metropolitan area and 422 retail properties nationwide.