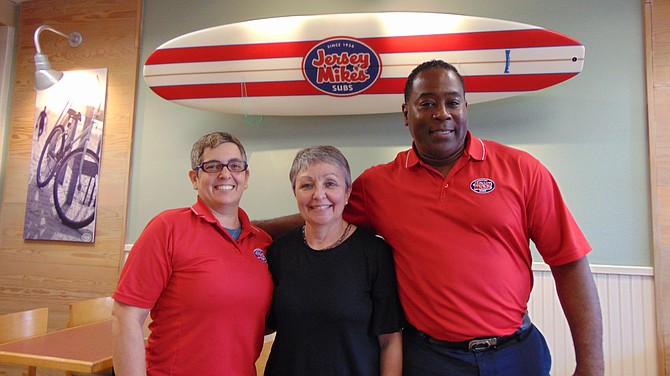 A new Jersey Mike's Subs shop is opening at the Shoppes at Lorton Valley in mid-to- late-September. The owners, Tracey Jennings, 48, and her husband Maurice, 52, of Lorton, used to run a ZIPS Dry Cleaners in Norfolk and commuted back and forth for eight years. They started as customers and befriended a Jersey Mike's store owner and studied up on the business. So, they decided that was the franchise they wanted, and they sold their ZIPS in 2017.
Their new Jersey Mike's will employ 25 people at its 1,600 sq.ft. store at 8971 Ox Road, Lorton, in the Shoppes at Lorton Valley. They will offer Italian, steak and cheese, and Club Sub flavors where all of the meats are sliced fresh and the bread is baked daily.
"We bake our bread daily here. We have vegetarian, we have your meats, gluten-free, our salads are called 'tubs;' we slice our tomatoes daily; everything is fresh sliced daily," said Tracey. "We have something called 'the Juice;' it's the combination of oil and vinegar and seasonings that change the whole taste of the sandwich. … Our meats are fresh and sliced in front of you," said Tracey.
Mike's Subs opened as a storefront location in Point Pleasant, N.J., in 1956. In 1975, Peter Cancro, a 17-year-old high school senior who worked for Mike's bought the operation with the help of his football coach. In 1987, he began franchising the Mike's concept under the name Jersey Mike's Subs. Today there are 1,500 franchises nationwide. Its headquarters are in Manasquan, N.J.
"We want people to know when they come into Jersey Mike's that it's more than just a sub. We call it a 'Sub-Above.' You're going to get a friendly environment and when you patronize our store, you're giving back to your community. We hire people in Lorton, we partner with LCAC (Lorton Community Action Center), which is a Lorton-based charity."
She continued: "The food is great and they serve the communities in which they operate," said Tracey. "It's at the top level, not just at the store level. (Cancro) bought the store when he was 17 and it was called 'Mike's,' and he coined the name 'Jersey Mike's."
Originally from Richmond, Tracey got a degree in business management from the University of the District of Columbia. Maurice is originally from Alexandria and graduated from Mount Vernon High School, Northern Virginia Community College and George Mason University. The couple has a 10-year-old son, Connor, who plays football and basketball for South County.
AS PART OF THEIR GRAND-OPENING, this Jersey Mike's franchisee is establishing a partnership with LCAC by distributing 10,000 coupons to customers in the community. In the first five days of opening, customers can donate a minimum of $2 and will receive a free sub. The $2 will go to LCAC.
Tracey was attracted to LCAC because of their focus. "They do a multitude of things; it's not just one need that they focus on -- from the clothing pantry to the food pantry -- it's just an array of different things that they do," she said.
"You're helping a lot of different people from everyday life and when you help and give you can make a difference in their lives. It's important and that goes to the backbone of who my husband and I are. Life can change in a minute for anybody," said Tracey.
According to LCAC Executive Director Linda Patterson, 52, of Alexandria: "It is impossible for LCAC to serve the families in our community without partnerships like Jersey Mike's. It takes an entire community to assist or help our neighbors have a better life. LCAC is excited that Jersey Mike's is joining us on this journey to help make Lorton a better community."
Located at 9518 Richmond Highway in Lorton, LCAC serves low-income families and seniors of Lorton, Newington, and Fort Belvoir. "LCAC has been around for 43 years trying to meet the basic needs of low-income families and seniors and provide educational opportunities to better the lives of the people we meet," said Patterson.
"We do that through basic needs like our food pantry that feeds 200 families a week, and back-to-school program, which will serve 400 kids this summer. We also have a Thanksgiving and Christmas program and offer educational opportunities like nutrition education so families can learn to cook and eat meals on a limited budget, utilizing LCAC's garden and a variety of fresh produce" she said.
LCAC serves about 3,300 people a year; last year they had 10,700 visits to the food pantry, she said. Families are eligible to come once a week for food. LCAC also offers ESOL and computer classes as well as kids' summer activities. In addition, they offer emergency rent and utility assistance in keeping families housed, and if families become homeless, they move them into housing.
During the 'Fall for LCAC' food-raiser on Sept. 16, Jersey Mike's will place a box in their store and collect food for the pantry. In addition to LCAC, Jersey Mike's will be partnering with people re-entering into the workforce. "We want to give second chances for people coming out of jail and give them basic skills and training," she said.
Every March, Jersey Mike's also has an annual 'Month of Giving' where last year they raised $6 million for 170 charities nationwide. Since the program started eight years ago, they've raised $24 million. For the Day of Giving next March, Lorton Jersey Mike's revenue will go to LCAC.

For now, the couple is focused on getting the new store opened; it's a big task. They've reached out to the Workhouse Arts Center for potential partnerships on some of their events. The week before they open, they'll be distributing food to local businesses, to the Workhouse, to the firehouse, giving them free food as an introduction, and introducing their brand.
For more on Jersey Mike's, visit the website at www.jerseymikes.com.