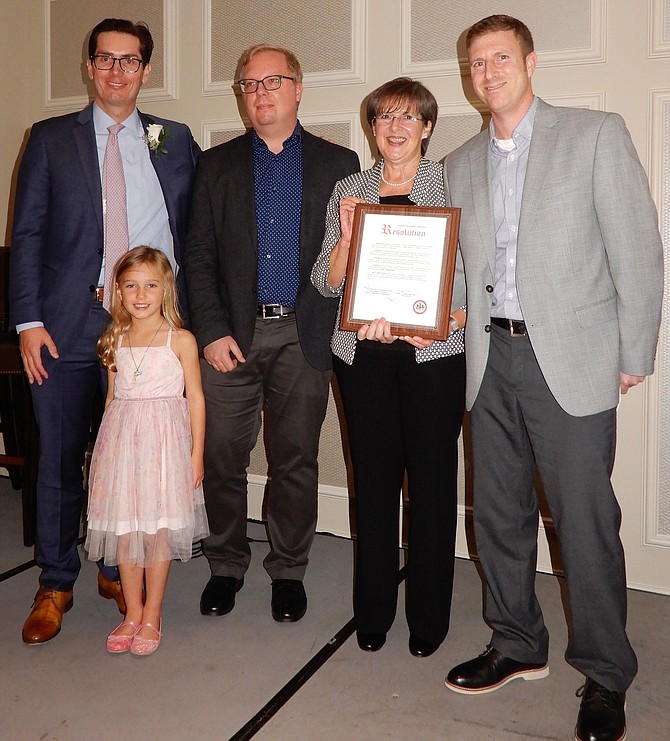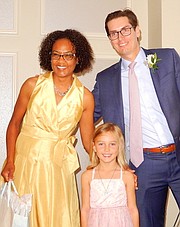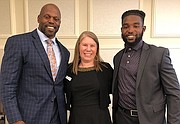 Each month, Western Fairfax Christian Ministries (WFCM) serves 400-500 local families at risk of hunger and homelessness. But it can't do it without the support of the community and all those who contribute to it financially and/or as volunteers.
So this nonprofit's 12th annual fellowship dinner gave it the opportunity to thank and recognize them all, as well as raise money to continue offering services to the more than 3,000 clients it's projected to serve in the new fiscal year. The recent event was held at the International Country Club in Chantilly, where a silent auction and donations yielded $55,000 total.
Some 215 people attended, enjoyed songs by Revelation Acappella and listened to keynote speakers, former Washington Redskin players Ken Harvey and Kyshoen Jarrett. In addition, WFCM Executive Director Harmonie Taddeo announced the organization is now extending its services to Oak Hill and more of Fairfax.
She also praised her 12 board members plus WFCM's nearly 70 volunteers who serve each week stocking shelves in the food pantry, bagging groceries, speaking with clients and helping out wherever they're needed.
TADDEO gave several examples of their unselfish work and care for those in need, and then she had them stand – along with the board members and seven staff members – to be applauded by everyone attending.
"I came to WFCM because I wanted to be part of the solution to hunger here," said Taddeo. "Our vision is a community where everyone is housed and fed and experiences God's love." She said they're working toward this goal, thanks to the tireless efforts of people such as:
Annmarie Calkins and Karen Brigman, who often follow clients in wheelchairs around the pantry to help load their carts with food;

WFCM founder and former Executive Director Jan Welch, who continues to volunteer with her husband, picking up and delivering food to the pantry;

Ivan Mills and Fairfax Church of Christ, plus Ox Hill Baptist Church, who pay for some 50 client families each month to clean their clothes at a laundromat;

Bill Tierney, who stocks shelves one morning a week before WFCM opens its doors to serve clients;

Sarah Barton, who bags groceries one day a week and often fills in on other days when needed to ensure that clients have assistance when shopping in the pantry;

Kitty Beachy, who teaches new differently abled volunteers how to read use-by dates and stock the shelves;

Food Pantry Director Pamela Montesinos, who started an onsite garden to add produce for the pantry and pushes to get full gallons of milk and cartons of eggs included as part of WFCM'S USDA distribution;

Michael Adere, who organizes the Scouting for Food Boy Scout Food Drive that brings in more than 60,000 pounds of food from the community; and

Martin Patch, one of the drivers who transports this donated food from the Boy Scouts' sorting site to the pantry.
Noting that most of WFCM's clients are the working poor, Taddeo said an example of those it serves is a family of four earning an average of $32,000/year – which doesn't go far in high-cost Fairfax County. Both proud and pleased to be WFCM's leader, she said, "It's a blessing and a privilege to be a part of this organization."
Stepping next to the podium was WFCM Board President Andrew Casteel, who also thanked everyone involved with WFCM and all the volunteers. "We appreciate your support," he said. "This is an organization that helps so many people in our community."
He then honored Teasa Northern for serving as WFCM's interim executive director from November 2018-February 2019, before Taddeo took the helm. "She did this while still working full-time at Grace Covenant Church," said Casteel. "She volunteered for the job because she knew WFCM was in need."
But that's not all. "She didn't just maintain operations and staff morale, she improved them," he explained. "And during the furlough, she provided special, evening hours for federal-government workers impacted by it."
Next, he presented the Chantilly Wegmans with WFCM's Community Service Award. "It takes seriously partnering with the local community," said Casteel. "Since it opened on May 30, 2018, it's donated 51,521 pounds of food and has given us a $26,000 donation through its Check Out Hunger program. The store also hosted food drives for WFCM and recently donated a new, $5,000 commercial-grade refrigerator for the food pantry to hold full gallons of milk and other items needing refrigeration."
RECEIVING THE AWARD were Service Area Manager Chris Holland and Chantilly Store Manager Brien MacKendrick. "We're about family, and community is family, and we couldn't be prouder to partner with a group like this," said MacKendrick. "And thank you all for what you do."
In addition, Supervisor Kathy Smith (D-Sully) read a resolution from the Fairfax County Board of Supervisors, thanking and commending the Chantilly Wegmans for its "outstanding work in partnership with Western Fairfax Christian Ministries."
Casteel then invited everyone to tour WFCM (at 4511 Daly Drive, Suite J, in Chantilly) to see "one of the best, hidden gems here in Fairfax County." Next, a video showed three of WFCM's Pathways to Success program graduates, who told how the organization helped them in their times of need.
They said WFCM gave them food to feed their families, taught them financial management and budgeting, and provided emotional support and "a community that helps so much." One said WFCM's assistance "restored my faith in humanity," and another said it "really changed my life, and I can now see a future."
Instead of making speeches, former Redskin Ken Harvey interviewed current Redskin Assistant Coach Kyshoen Jarrett about his life and career. Jarrett told how an injury ended his playing career, but that – with support from family and friends – he was able to move forward.
And, similarly to WFCM, Harvey told the crowd, "The gift is in your hands, and it's about what you can do to help the next generation. We've got to be willing to dig deep and help each other out."