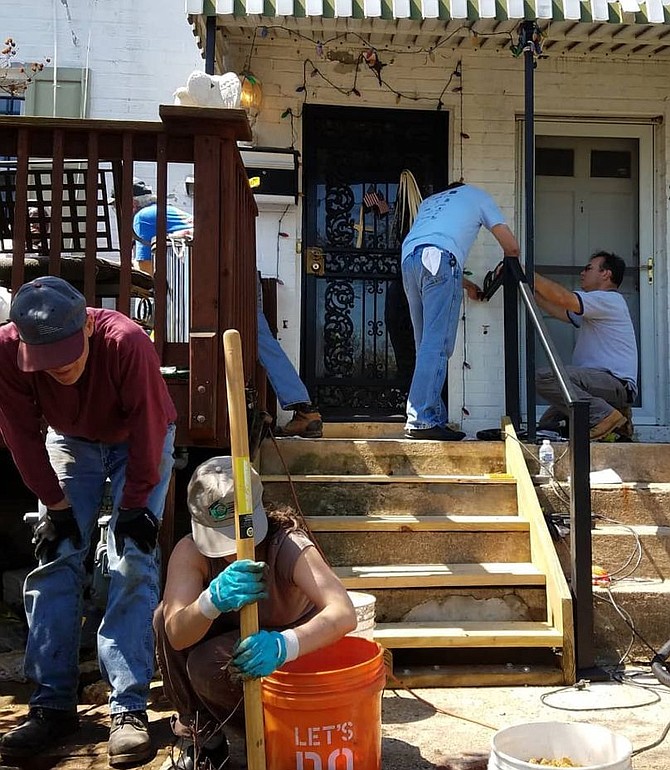 As we move into our new fiscal year, our staff marvels at the great work done in homes of our in-need neighbors throughout Alexandria by our dedicated core of volunteers and contractors. This past year, our organization was able to assist 106 homeowners, 11 non-profit facilities and community spaces, and rehab and sell 4 properties to low-income homebuyers.
With those numbers in mind, we are looking to do more this year. The application cycle for our Safe & Healthy Homes program began July 1, and it is easy to apply. If you are a limited income homeowner, simply fill out a short application found on our website or at a City of Alexandria library or recreation center. Once you apply, a staff member will set up a home visit to review all potential safe and healthy repairs.
Our volunteers are at the core of our work and help us find new ways of making repairs. Many of our homeowners realize the necessity of front handrails as they grow older and their mobility declines. Our volunteers become our solution-making experts. For example, a longtime volunteer, Dwaine, used an off-the shelf handrail kit and a work-around to make hard-to-climb front steps, easier and safer to use. The relationship with the homeowner, Mrs. P., was also challenging as she was weary of letting others into her home and suffered from some health issues. This year allowed Dwaine, and the volunteers that work with him, to accomplish two wonderful projects and have a tremendous homeowner transformational experience.
"Our first contact with Mrs. P was cautious. We went by the house the day we were assigned the project. Day 1 of our build (of 3 days) was restrained, but we chose not to do any inside work, just work on the porch steps. By Day 2 we were over the hump! Early on Mrs. P came out just to talk to us and a short time later she came out to show us how difficult it is for her to climb the front steps. Later on Day 2 she sat on her front deck to watch us work and to talk a little. At the end of Day 3 she asked me to help her open a blister package. Not an easy task for me, really tough for her. I believe the key to our success was in overcoming Mrs. P's reserve by a patient, incremental approach to the work. Plus of course lots of smiles. An exceptional year."
Since 1986, Rebuilding Together Alexandria, now Rebuilding Together DC • Alexandria, has recruited more than 28,000 trust-worthy volunteers that have worked on 2,200 projects, leveraging $8.8 million worth of in-kind value to Alexandria. Rebuilding Together's work contributes to helping Alexandria, and in 2019 also DC, remain economically, socially and culturally diverse. Repairing homes, revitalizing communities, rebuilding lives.