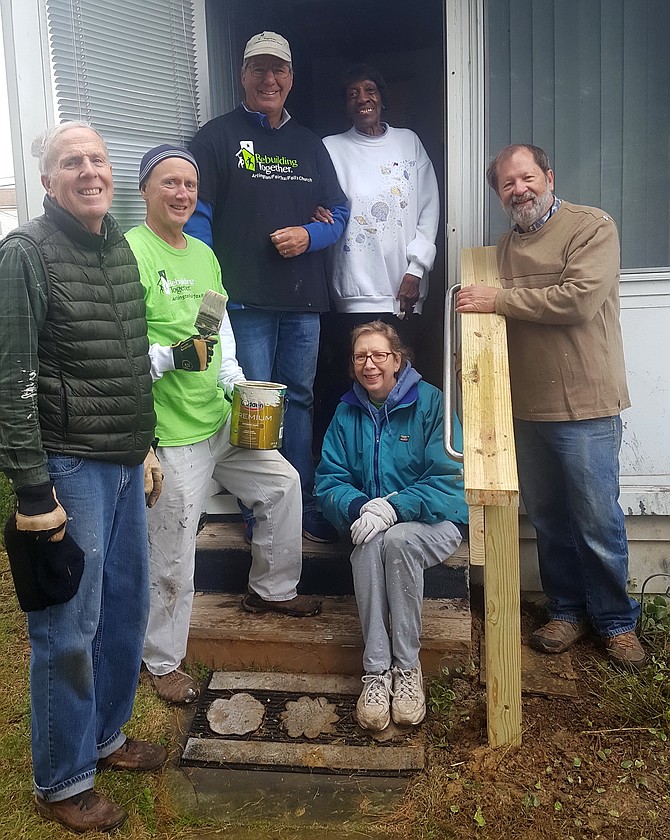 Everyone deserves a safe and healthy home. That's our fundamental belief. Rebuilding Together helps homeowners in need with critical repairs, and we help low-income seniors with repairs and modifications to safely age in place. These services are provided at no cost to the homeowner.
Trust and pride are two reasons that people — especially seniors — don't always reach out to Rebuilding Together to help them with home repairs. But it's for those very reasons that people should. "We are the caring neighbor next door," said Patti Klein, executive director of Rebuilding Together Arlington/Fairfax/Falls Church. "And our volunteers often say they get as much from the experience as the homeowner."
Like any service, the best way for people to connect with Rebuilding Together is through a referral from someone they trust. This is especially true since many of the homeowners we assist are older or have disabilities and feel vulnerable or too embarrassed to ask for help. That's why we are encouraging neighbors, friends, and families to introduce us to them.
The application process is easy. Applications can be found on our website at https://rebuildingtogether-aff.org/. Or give us a call at 703-528-1999. Priority is given to the elderly, disabled and families with children.
Volunteers from Rebuilding Together recently added an exterior railing with an easy-to-grip handrail at Mrs. Jones' Arlington home, making it safer for her to use her back steps. They also installed a comfort height toilet and gfci outlet in her bathroom, a new smoke and co alarm and repaired her kitchen cabinets. "I am really pleased with their work, and everyone was nice and friendly," remarked Mrs. Jones. "They did a good job."
If you're interested in becoming a volunteer or making a contribution to our program, please visit our website at https://rebuildingtogether-aff.org/. You can also call 703-528-1999 or email info@rebuildingtogether-aff.org.
We have a Home Safety Checklist to assist all homeowners in making important changes in their homes to decrease the likelihood of an injury from a fall, fire or other accidents. Please call or email us and we'll send you a copy. You can make your own home safer, and with your help we can make sure that all of our neighbors are safe in their homes too.