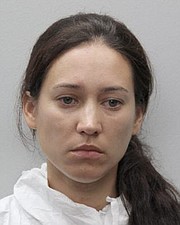 The juvenile taken to the hospital after Sunday, Aug. 5 fatal shooting died early morning Aug. 11 – according to FCPD Media Relations Bureau. Additional charges are anticipated for Veronica Youngblood as the investigation continues.
Youngblood, of McLean, was facing a murder charge after a shooting in the 1500 block of Lincoln Circle lAug. 5 around 10:15 p.m. When officers arrived, they discovered two juvenile victims in an apartment. One victim was taken to the hospital in life-threatening condition. The second victim was pronounced dead at the scene.
The suspect, 33-year-old Veronica Youngblood, was found in Loudoun County after an acquaintance called police when Youngblood knocked on their front door. With the assistance of Loudoun County Sheriff's Office, Youngblood was taken into custody without incident. Multiple press reports indicate that she is the mother of the two murdered children.
She was taken to the Fairfax County Adult Detention Center, where she is being held without bond. A firearm, believed to be involved, was recovered when Youngblood was arrested. Detectives are continuing their investigation into the events leading up to the shooting. The Office of the Chief Medical Examiner will be conducting an autopsy.
Per Virginia Code 19.2-11.2, police are prohibited from providing information about juvenile victims unless parental consent is provided. This law went into effect on July 1 of last year. It prohibits Virginia law enforcement agencies from directly or indirectly identifying deceased juvenile victims of a crime.