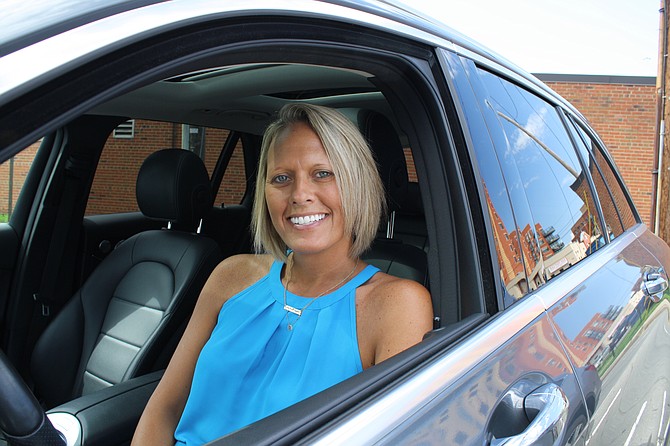 Relocating a car can be expensive, inconvenient and risky, so Arlington resident Jaime Bowerman put her entrepreneurial skills to work and joined forces with a few others to form "ReloRides," a start-up car service that is kicking off this week in Arlington.
The service will get a driver and drive your car wherever it needs to go, "taking the hassle and expense out of relocating," company information stated. The service is aimed at students going off to college, military families relocating, or seniors who can't handle the 12-hour days behind the wheel. The other side of it is a driver that is going where the car needs to go. "There are people that want to travel one-way, lots of people," Bowerman said.
"Steer towards a free adventure," the logo on her card reads. She had an experience relocating her car to her new home on the west coast in 2010 which turned out to be anything but an adventure. Bowerman was sent to Oregon for government training before going to Iraq during the war as a consultant, and her car arrived later then initially agreed on, and picking the car up was challenging. "The car got there at 2 a.m.; we had to meet them in Walmart parking lot," she said.
The driver for ReloRide will drop the car right in the driveway, according to company literature.
With the internet, cell phones and apps, barriers have broken down through the years so these days hopping in a car with a total stranger, for example through Uber or Lyft, is commonplace, as is living in someone's house for the weekend like Airbnb. Why not have a total stranger drive the second car when moving a few hundred miles away? "It's a different world today, we're used to sharing cars, we're used to sharing houses," Bowerman said. "I've not only stayed in Airbnb's, I've Airbnb'd my house in Florida," she added.
There are five people behind ReloRides – two others in Arlington, one graduate from the University of Virginia that lives in London, and another person that lives in Romania. Even though there are partners outside the United States, they are initially keeping it in the U.S. for now.