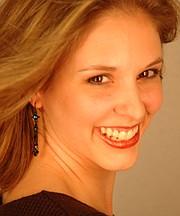 Andrea Cook will serve as The Fairfax Ballet Company's new artistic director. One of the longest running ballet companies in Northern Virginia, the Fairfax Ballet Company is a 501(c)(3) non-profit performing arts organization.
Cook, a Fairfax County native and Chantilly High School alum, attended Point Park University, where she received a BFA in Dance Performance, with a concentration in jazz and was awarded Outstanding Graduating Senior for her class. She then moved to New York City to pursue dance performance and teaching opportunities.
During her time in New York City, Cook danced with PushFactor Dance Company and was a founding member of the Undertoe Dance Project, worked for the New York International Ballet Competition, and taught dance classes at the New York Kids Club. She also served on the faculty of and was a judge for DanzJam Conventions in the New England area. Cook is currently the academy administrator at the Fairfax Academy for Communications and the Arts, after directing its dance program for 9 years. As the dance director, she received a Wolf Trap Grant for High School Performing Arts Teachers, which allowed her students to learn and perform two works by Paul Taylor.
Cook's choreography has been featured on numerous companies and as part of choreography festivals in Pittsburgh, New York City, and the Washington D.C. area, in addition to local theatre companies. She has been nominated for numerous WATCH awards and won for Best Choreography for Reston Community Player's production of "Curtains." Cook joined the NCA Cappies Gala team to direct and choreograph the Cappies Gala Dancers at the Kennedy Center each June. She has worked with dancers at various youth companies including setting both ballet and contemporary works for the Fairfax Ballet Company.
"Having worked with the dancers of the Fairfax Ballet Company for the past decade, I am excited to be taking on a new role that will allow me to continue to stretch myself and the dancers artistically," Cook said. "I am thrilled to be part of a program that creates a wonderful environment for dancers to learn, grow, and discover who they are as artists and human beings."