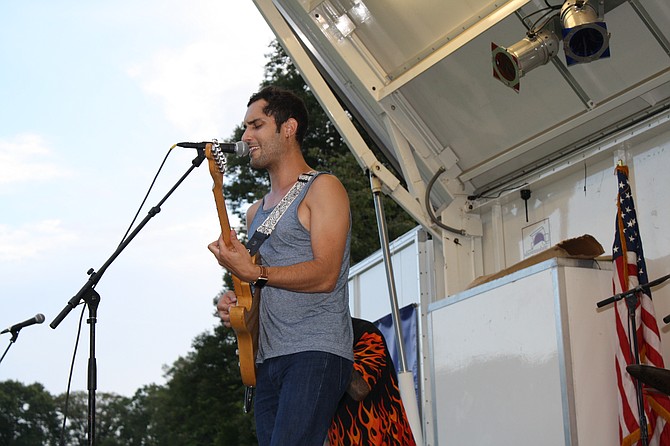 Burke — Sleepy Clifton isn't known for putting out top-notch country rock musicians but then there's the Thompson family, who have lived there for years, bringing the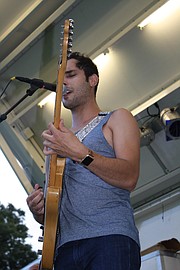 town's musician status up a notch. Father Randy Thompson has impacted the country rock genre for years, and his son Colin is climbing into the driver's seat on the music scene.
On Aug. 8, The Colin Thompson Band was the lead act at Burke Lake as part of the Fairfax County Summer Entertainment Series in the Park. "Crippled Creek," by 1980s band Little Feat was a hit on the second song of their 10-song set. "Here we'll keep it upbeat," he said of the upcoming set.
The family has roots in Robinson High School in the Burke-Fairfax area, where both Randy Thompson and his son Colin graduated before embarking on the country-rock scene.
"My parents met at Robinson," Colin said. Colin's high school band won a "battle of the bands," competition at school before graduating in 2009. In Clifton, they've both played in the big barn, and "the whole town comes out," said Randy Thompson.
Since then, Colin has played at several Celebrate Fairfax events, Herndon Day festivals, and Clifton Day festivals. Dad Randy still lives in town and uses the historic nature of the town for some of his song writing. One song, "Unknown Zone," is "about all the Civil War ghosts," said Colin. Recently, Alternate Root Magazine named Colin one of the top 21 roots guitar players.
The Fairfax County Park Authority's "Summer Entertainment Series in the Parks, 2018," was funded "in partnership with the Fairfax County Board of Supervisors and generous contributions through the Fairfax County Park Foundation," it stated on the entertainment calendar. The only county contribution was the "Showmobile," portable stage and the park space, according to Herrity.
The concerts are part of Herrity's plan for Burke Lake performances. He likes the local nature of the music. For the concerts at Burke Lake, "it's bring your dog, bring your family, grab a lawn chair and enjoy the music," Herrity said.
To supply the refreshments for the evening, "2 Silos" brewing company from Manassas set up a beer tent, and their marketing rep Meredith Arnest made sure the tap didn't run dry. She's a marketing graduate from George Mason University, and her evening was "talking about beer, that's what I do," she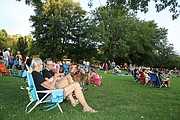 said. Their top sellers at 2 Silos are Virginia Cream Ale and Mason Pale Ale.
The Thompsons are about to head out on an 11-city European tour. "Europeans love American roots music," said Colin Thompson.
Later in August at Burke Lake is a local music favorite "Johnny Artis," and Herrity knows them well. "They played at my wedding 29 years ago," he said. The band will play Aug. 22 at 7:30 p.m.