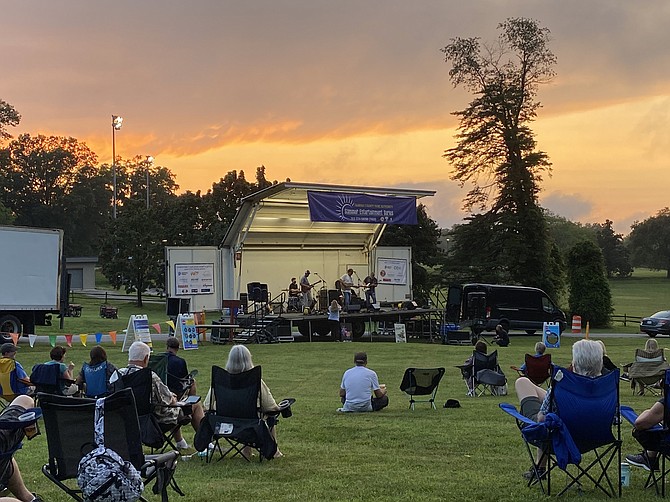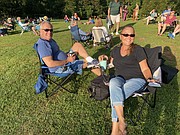 This summer, Fairfax County Park Authority is bringing back the in-person Summer Entertainment Series of free events and performances at venues in the area. One of the series is Springfield Nights, where local musicians play every Wednesday night at Burke Lake Park.
The Randy Thompson Band kicked off the Springfield Nights series on July 14. Although it rained heavily leading up to the start time of the concert, about 350 people attended, according to Springfield District Supervisor Pat Herrity.
"We got 350 people here on a rainy night that a lot of other people would have called a rainout," he said. "350 people, 14 dogs and one parrot."
The Randy Thompson Band has been performing at Springfield Nights since the concert series started in 2018. For some attendees, it was not their first time seeing the band.
"We came two years ago and saw all the lineup so we've seen [the Randy Thompson Band] before," said Carol Gibson of West Springfield, a communications specialist for Fairfax County Schools. "Thankfully the rain cleared just in time."
For Carol Currey and her family, it was their first time seeing the band.
"We live close by and it's just nice to come over and sit and enjoy," said Carol, a physician and Fairfax Station resident.
According to Gordon Currey, they are excited for "getting out of the house" this summer at the Entertainment Series.
Many of the performers for the Springfield Nights series are local, including the Randy Thompson Band. The band is also one of Herrity's favorites.
"[Randy Thompson's] one of my favorites," he said. "We also have Skip Castro, which I have seen for many years, which is a favorite. The Johnny Artis Band actually played at my wedding, so… I've got lots of favorites here. A lot of this is very local music, which is great because it gives artists a chance to come out and perform."
Herrity passed around Tootsie Pops at the event, which he called a Herrity tradition.
"I take those to all the parades and community events that I go to because not only kids like them but adults like them, too, and it brings back that kid in you to have a tootsie pop," he said.
In addition to Springfield Nights, Burke Lake will be hosting six of the Arts in the Parks events on Saturday mornings. These free children's events are also part of the Summer Entertainment Series.
After the Entertainment Series was cancelled last summer, many were happy to be back enjoying the events.
"We missed last year because of COVID, but we're very excited to be back," said Gibson. "They're great family events and it's great to get outside and enjoy the parks."
Herrity thanked the Park Authority and Entertainment Series sponsors for helping to make Springfield Nights happen.
"We work with the Park Authority and do a lot of fundraising, and without our sponsors this wouldn't be possible," he said. "To be able to do this and see everybody's smiling faces and be enjoying live music again, there's just no words to describe it. Absolutely no words. Everybody mentioned that on the way in, and they're just happy to be here."
Summer Concerts in the Area
Concerts at Burke Lake
SCHEDULE
July 28 The Road Ducks (Southern Rock)
Aug. 4 The Johnny Artis Band (Blues, Rock & Roll)
Aug. 11 Practically Einstein (Vintage Rock)
Aug. 18 The Colin Thompson Band (Blues Rock)
Aug. 25 Rescheduled show / TBD
Wednesdays
Lee District Nights. 7:30 p.m. At Lee District Park, Leonadus K. Plenty Amphitheater, Franconia.
July 21 - The Nighthawks (Blues)
July 28 - Pablo Antonio y La Firma (Merengue/Cumbia/Salsa)
Aug. 4 - Junkyard Band (Go-Go, Funk)
Aug. 11 - The U.S. Navy - Cruisers (Pop/Rock)
Aug. 18 - Alt Washingtonia Schuhplattler Verein (Alpine Dance/Music)
Aug. 25 - Sharon Clark Quartet (Jazz)
Saturdays
Mount Vernon Nights. 8 p.m. At Workhouse Arts Center, Lorton.
Schedule
July 24 – Los Texmaniacs (Conjunto band)
July 31 – Robin and Linda Williams (Folk)
August 7 – The Pietasters (Ska)
August 14 – Crys Matthews (Jazz, Blues, Funk)
August 21 – Dom Flemons (Acoustic Blues)
August 28 – The U.S. Army Field Band, Six String Soldiers (Americana, Folk, Bluegrass, Irish)