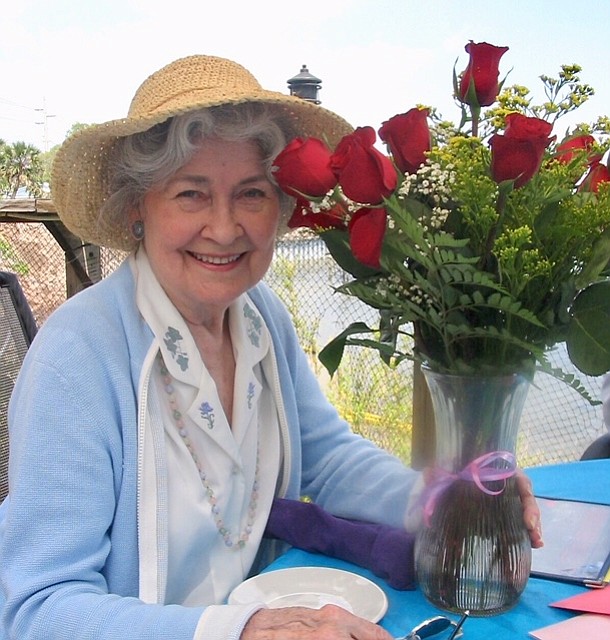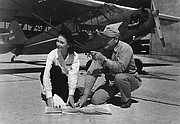 One year ago on Aug. 22, 2017, my mother, former Alexandria resident Gene Pauline Hine Ives, died in Melbourne, Fla. after suffering a stroke. She was 94 years old and was born on June 13, 1923 in Washington, D.C. at Walter Reed. Her father and longtime Alexandria resident Col. Henry Chester Hine, Jr. was an Army officer stationed in the area at the time with her mother Norvell Pauline, who was the daughter of soon-to-be Chief of Chaplains Julian E. Yates. She had a sister Janet Hines and a half-sister Page Billig, both now deceased. Before moving to Florida, she was a resident of Alexandria and Fairfax County for 37 years beginning in 1962.
Gene had five children with her adoring husband of 60 years, Col. Robert Northrup Ives, who passed away in 2006. They are, in order of birth, Sheryl Lindgren Ives Kearsley of Albuquerque, N.M.; Robert Northrup Ives, Jr. of Laguna Niguel, Calif.; Suzanne Pauline Ives Dunkley of Alexandria, Va.; Sheila Janet Aemilia Ives of Burnsville, N.C.; and Russell Chester Phillip Ives of Annapolis, Md.
My name is Suzanne and I am Gene's third child. Our memories of my mother are tales of beauty, joy, laughter, courage, and love. Beauty, because she was flat-out gorgeous. As a young woman with that shiny dark hair and those bright blue eyes, she would be stopped by strangers and asked if she was a movie star, and not just once — often. Even when she got decades older, many people — including her doctors — thought she was much younger.
Joy, because she always made you feel she was just so glad to see you. I remember when my husband Michael and I surprised her with a visit a few years ago. She opened the door and when she saw me there, her mouth dropped open, she cupped my face in her hands, and through her tears she cried, "It is you! It is you!"
Laughing came easily and was one of Mom's favorite pastimes. When she really got going she always looked a little embarrassed and mischievous, as if she were getting away with something. Though she did not write it, she shared a short poem with some of us that really made her giggle.
"May the light always find you on a dreary day,
When you need to be home, may you find your way,
May you always have courage to take a chance,
And never find frogs in your underpants."
Ask her how she was, and Mom would smile and say, "Fine as frog's hair!" Thanks to Mom, I find that it actually makes one feel better to say, when asked, "Why, I'm fine as frog's hair!"
Taking a chance was something Mom excelled in. To say she was a bit of a daredevil is no exaggeration. As a young teenager at Fort Myer in the District, she loved to swan dive off the high platform at the post swimming pool, a feat shunned by many of her contemporaries. She was also a competitive swimmer and was very proud of her silver medal from a swim meet. Water was not her only element, however. She was at home in the air, too. At Fort Bliss, Texas toward the end of World War II, she learned to pilot a plane for the Civil Air Patrol, although those wings were not always shiny. As she was taxiing for takeoff on her first solo flight, a gust of wind flipped over her little Piper Cub, breaking off the propeller which still exists today. She eventually made it into the air, but not that day. As it turned out, all the other flights had been grounded and her instructor should not have made her fly.
She had met the handsome Bob Ives when they were teenagers in the Philippines just before World War II. She reunited with him not long after he graduated from West Point in 1945. Though their marriage cut short her flying career (for a brief time she even outranked him), she did soar to new heights in childrearing and had five children, six grandchildren and, at last count, four great-grandchildren.
Gene was a lover of the arts. A career woman in mid-life, she was a graphic artist for the U.S. Government (having been employed at the National War College in Washington, D.C.) and had been designated in the 1960s to accompany dignitaries to a nuclear shelter should the need arise. She was a painter for most of her life and later became an accomplished and prize-winning quilter. Although it is accepted practice now to quilt by machine, she, like many of her fellow quilters at the time, designed and made all of hers completely by hand — stitch by careful stitch. Locally, she had been a member of Mount Vernon Quilters Unlimited. One of her quilted wall hangings, which was based on Mary Cassatt's painting "The Boating Party," was in a special exhibit at the DAR Museum at Constitution Hall in the 1990s. She was also a member of local book and garden clubs in the White Oaks area of Mount Vernon, as well as an avid opera lover who subscribed to Kennedy Center performances by the Washington National Opera.
Almost 25 years ago I wrote a simple rhyming poem for her (Mom liked her poetry to rhyme) that she tacked on her wall. I would like to share it with you here.
"My Mom's Hand
I haven't always been so tall or had a stride so long,
I haven't always fed myself or sung myself a song,
And once I saw the rainbows only through my mother's eyes,
And when she picked me up, then I was just about her size.
I once depended on her feet to take me to the yard,
Her arms to reassure me that this life is not so hard.
And now, though I am walking on my own, I understand,
I still would slip and stumble were it not for my mom's hand."
Her remains were interred alongside my father's at Arlington National Cemetery in May. Anyone wishing to honor Gene Ives' memory is invited to make a contribution to the American Heart Association in her name, and to remember her with love.