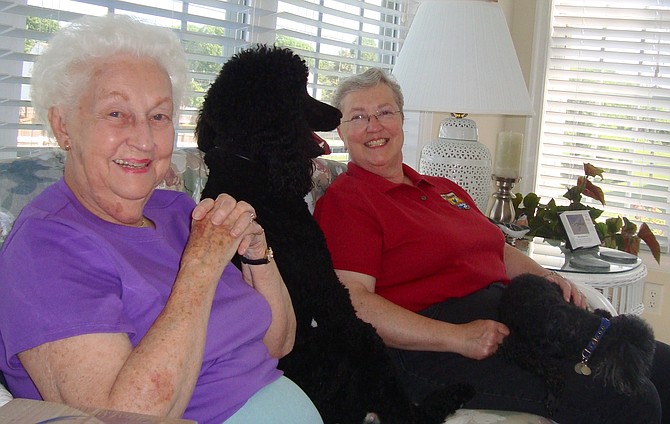 Moms are always there. They pop into your mind even when they are not physically there, especially if you are weighing the odds of getting caught doing something that she warned you not to do. She is somehow there especially if you accomplished something you really did not think you could tackle, say nothing of complete. She has always been that "conscience" sitting on my shoulder. You know that special look that conveys so much without words having to be said.

So this Mothers Day, I realize that my mother will really never again be physically available to me. She died on Jan. 4, 2021, and I have been so busy settling her estate and continuing to "do" things for her and tie up "life's packages" in her honor, that I truly have not taken the time to say goodbye. It is a task that I knew intellectually would arrive, but now that it is here, I am in awe of where it may take me.
My mother came from a small town in Beloit, Wisconsin. She dated her childhood sweetheart in high school and spent the next 73 years of her 95 years with "the love of her life." They were the perfect Navy couple – solid, social and responsible. They were dedicated to making a better life for themselves and their children and were totally devoted to one another. She was the perfect Navy bride, always stepped up to serve where and when needed. Although never officially recognized by the Navy as the hard working, conscientiously faithful accomplice to Dad's successes, she proudly was there to celebrate his career. She was always there to celebrate accomplishments of both her son and her daughter.

I guess you could say that my mother lived her life through others. She was from the era of brave women who were not allowed to have careers and were expected to get married, to have children and to delight in keeping the house clean with delightful meals on the family table. She did all those things beautifully, graciously and never asked for recognition. It was expected so she stepped up and made sure expectations were met fully and grandly.
She was the springboard from which each of us jumped into life. We knew that life's needs would be met while we were off taking chances too risky for a wife or mother. We exercised the fruits of our education that she would not be able to pursue as a wife or mother. We had the celebratory recognition of achievement that she would set up, coordinate, bake for and welcome as a hostess to all in attendance.

In 2018, just after my Dad died, I did get the chance to tell my mother just how much I observed her dedication – her self-effacing strength. I told her that although we never said the words, we knew deep down inside who was responsible for the predictable warmth and security associated with home.
At this time, dementia had truly blanketed her ability to respond verbally. As I took her hand to communicate my thoughts, I saw how the years had marred her skin and had made her look frail. And then I felt it – that strong squeeze, that knowing shake and that pull on my arm. Again, with no words my mother assured me and made me feel appreciated. She comforted me while I was doing my best to comfort her.
So that is the way it is now. She comforts me as I live without her. Her memory, her words, her hug, her reassurance will never leave me. Even though I cannot see her physically, her presence is there. Moms are always there.