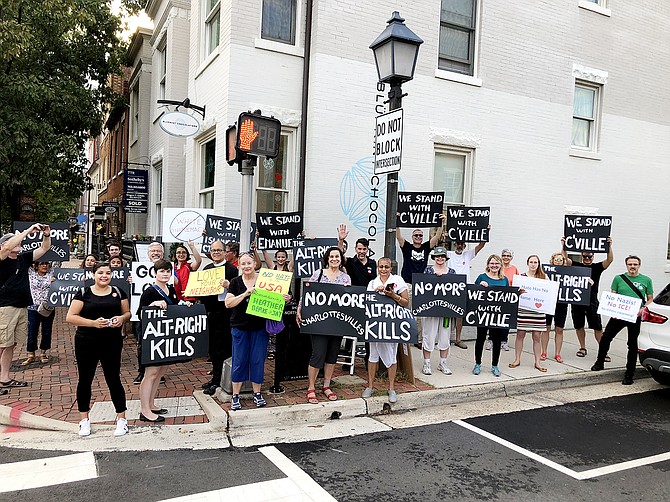 White nationalist Richard Spencer has moved out of Old Town. It was welcome news for Grassroots Alexandria, which has been protesting twice a month for a year-and-a-half outside the second floor apartment at the corner of King and North Patrick Streets. So, on Saturday, dozens of anti-hate protestors held one last vigil.
"Oh, I think we had an effect," said Jonathan Krall of Grassroots Alexandria. "We did our best."
Grassroots Alexandria leadership was informed of the news in an email from Alexandria Police Chief Mike Brown. The protest took place the day before the Unite The Right white nationalist rally in the District on Sunday — an event that marked the one-year anniversary of the deadly white nationalist demonstration in Charlottesville that left one woman dead.
Elizabeth Bennett-Parker, a Democratic candidate for Alexandria's City Council, was among the protestors. "I think with the anniversary of Charlottesville and the rally in D.C, it's important to stand up for an inclusive community and inclusive country, and to remind everyone that hate is not welcome here," she said.

Spencer's public reception throughout the region reached infamous proportions after a viral video surfaced showing the alt-right leader getting punched in the face by a masked protestor on President Trump's inauguration day in D.C. It received millions of views, and soon afterward Spencer was once again in the news — this time for losing his membership with the Sport and Health gym in Old Town after an altercation with another member. A week later, Old Town and Del Ray were littered with racist and threatening fliers, and while no suspects were arrested, anti-hate posters and messages were immediately posted in windows throughout the city as a peaceful response. Then last fall, Spencer's organization lost its nonprofit status for failing to file taxes three years in a row. His website is now full of aged content and his public comments are now largely relegated to Twitter.
The vigil included a moment of silence to honor victims of the alt right and a rendition of the civil rights classic, "Ain't Nobody Going To Turn Me Around."
"God is love and God created everyone, and that means everyone. God even loves Richard Spencer," said protestor David Hoover, who represented Christ Church. "I do think there is such a thing as evil, and [Spencer's] actions and thoughts are truly evil, and if I learned anything from AIDS activism, it was… to be silent in the face of evil is to be complicit."

Spencer's organization did not return a request for comment.