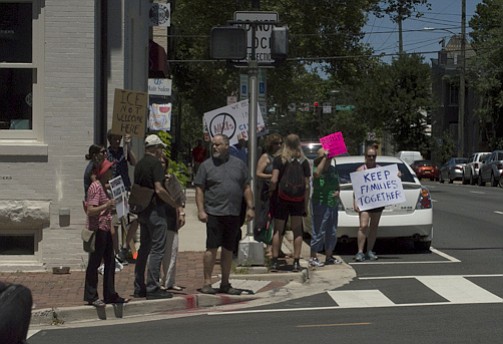 On a hot Sunday afternoon, at the corner of King and S. Patrick streets, a crowd of about 20 protesters held a sign that read DACA yes , Nazis no, in response to racism, white supremacy and ICE.
"Many if us were really appalled by Richard Spencer moving into our neighborhood, just three blocks from the church," said David Hoover, member of Christ Church.
People from Grassroots Alexandria and Christ Church came together to protest white supremacy, the presence of white nationalist Richard Spencer in their community, and United States Immigration and Customs Enforcement or ICE.
Jonathan Krall said that they wanted to do something since Spencer is living in the area and to bring attention to Spencer's white nationalist agenda. He said that he has been protesting with Christ Church since 2017.
"It's just not about him, it's this whole thing about, where he comes from in his whole agenda," said Krall.
The protest also focused on children being separated from their families.
"If ICE is holding them, there is no reason to separate mothers and fathers from their children, said Zeina Azzam.
Azzam, a naturalized citizen, said she feels welcomed in the Alexandria community. She came here when she was 10 years old, so feels the solidarity with the immigrants in the community and all the challenges they face.
The group holds protests on the second and fourth Sundays of every mouth. The protests are held between the 12:30 p.m. until 1:30 p.m. Grassroots Alexandria usually picks the theme for the day of the protest. The themes include an issue that is affecting a minority group.
Each protest begins on the corner of King and S. Patrick streets and the group is usually there for about an hour until they walk to the Appomattox statue located at the intersection of South Washington and Prince streets in Old Town Alexandria.
During the protests many people would show their support by honking their car horns or giving their thumbs up. Other people were not supportive by yelling profane language and one person said, "Know you history."
Norah Dick said she became involved with the organization after the inauguration of President Donald Trump.
Sharon Solorzano has been coming for the last year to participate in he protest. She said she wanted to come out and let Spencer know that his hate speech is not welcome here in our city.
Azzam said they can't make him leave but they can protest his presence and what he stands for. Azzam said they are also out to educate and to stand up in solitary for groups that are marginalized in this country.
Krall said the agenda of a white nationalist, is to have a white ethnostate. He said voter suppression, over policing that targets minority communities and immigration are some issues that are part of the white nationalist agenda.
"We need a majority, who will dismantle white supremacy in the United States," said Krall.
Hoover said that teaching people equally is something that is taught in the Bible. "We believe, like other religions, that everyone is made by God and loved by God," said Hoover.
Mo Seifeldein said a protest like this is really needed in the community. He also said that he was curious about why Spencer chose to live in a diverse community like Alexandria based on his point of view.
"We all come from somewhere," said Seifeldein.
Seifeldein immigrated to the U.S. from Sudan. He said his personal story describes what immigrants are like in this country. Seifedin said he worked hard to get to this point in his life. He is now a lawyer and running for City Council.

Azzam said it is important for people to go on street corners with signs and let people know that they are not going to stand for it.
Hoover said it's important for us to take stand and say, "racism is evil" and people are not going to stand for it.
"God loves everyone and racism is not going to be tolerated in this country," said Hoover.