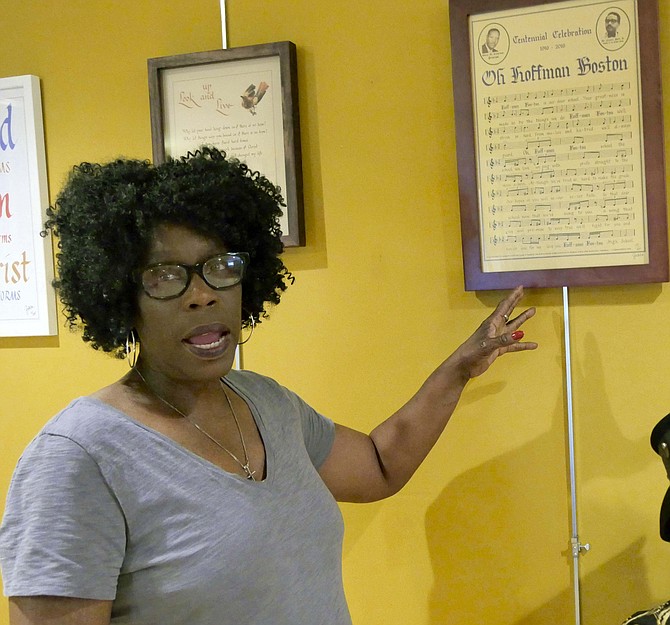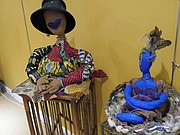 Felecia Brice McFail sits in her FOHTA calligraphy gallery in the basement of her home on S. Monroe Street in the historic Nauck neighborhood in Arlington. She says, "Now I'm retired and I can do what I want."
Her show, "Lay of the Land," illustrating each of the 50 states, is displayed on parallel walls as you enter the bright space. She says it took her about a day to create each state.
McFail says it all started when she worked for the county parks and recreation back in the day when it there were mimeograph machines. "I was doing all of the flyers for the county by hand and adding the graphics and then running them off." Then someone said, "You print so well." That got her thinking about calligraphy. She thought maybe she could make some money. McFail was a business major at Norfolk State University, then went to the Corcoran School of Art with an emphasis in calligraphy.
People started asking her to do wedding invitations and other projects, and she branched out. Now she has had her FOHTA gallery (From One Hand To Another) for going on eight years. "This was my daughter's hangout but when she left, I turned it into a gallery." McFail started by displaying her own art but then added other artists. Currently she is displaying Imani Russell. "She just brought her work in yesterday. Imani uses unusual fabrics. Here she has hand-stitched a lot of material and she adds things she might find on the street like this earring made out of a scrap of metal."
McFail says she tries to keep someone else in her gallery along with herself to draw people into historic Nauck and art. In 2016 Preston Simpson gave a lecture and presentation about his art. She says gallery space in Arlington is so expensive for a struggling artist so she offers gallery space at a minimal price. "This is a place to go to the next level."
She is particularly proud that in 2017 her gallery hosted the James Parks exhibit. "The Parks family was one of the oldest Black families in the county." She traced the lineage of the family with each sheet color-coded, taking one through the branches of the family. James Parks began as a slave digging graves in Arlington Cemetery. He is the only person buried there who was born on the property.
As McFail moves around the room she points out, "These are just pieces I did. I like Maya Angelou. I like her poems. Noland is a musician. I did his song in calligraphy." She explained, "I turn the written word into visual art." She points to a work she was commissioned to do celebrating the centennial of Boston-Hoffman, the only Black high school in Arlington until 1964. "I did 100 of these."
She says a lot of her inspiration comes from the Lord. "And I have requests. I do a lot of Bible verses. This one requested a prayer for her father." She continues, "here they wanted to have something to hang in the guest room. The poem begins, "we're glad to have you here as our guest ..."
She works on her calligraphy every day, sometimes at 2-3 in the morning. "I am so focused."
She serves as an Arlington arts commissioner and says Arlington County is putting together the Arlington Visual Art Studio Tour on Sept. 29-30. It is a self-guided tour of all art galleries and studios in the county. "I will have an open house that weekend so people can see what I have."
Her gallery is open every weekday from 4-6 p.m. and on Sunday from 1-5 p.m. She said some people just come by to wind down.