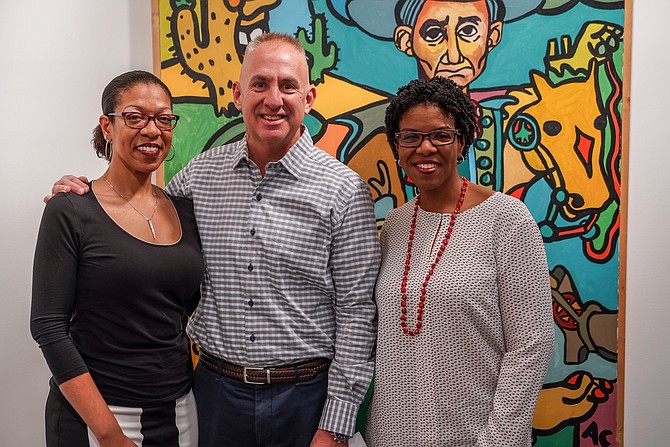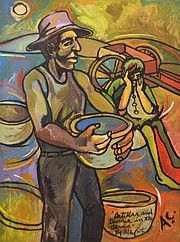 Despite his predilection for visual arts, Allen Carter, an African American boy growing up in pre-civil rights era Arlington, might not have been granted entrance into some of the nation's museums due to segregation. Still, he persisted, and years later he became a lauded artist, distinguished teacher and mentor to underprivileged children. And in February — African American History Month — his work is being shown in an exhibit, "Big Al Carter: A Retrospective," at the Fred Schnider Gallery of Art. While his work is part of the permanent collections of both the Smithsonian Institution and the Corcoran Gallery of Art, this is the first exhibit of Carter's work in the Washington, D.C area since his death in 2008.
"Big Al's family has given us an incredible gift by sharing his art, allowing us to continue to reflect on his life, his art and his message for future generations," said Marty Schnider, president of Fred Schnider Investment Group and founder of Fred Schnider Gallery of Art.
As a painter, printmaker, sculptor and muralist, Carter, also known as "Big Al" drew inspiration from his life experiences, art history and everyday life. He believed that his life's purpose was to use art to heal. "Art is my emotion. Art is my memories. Art is my life. I create the essence," he once said.
"He paints poor people, he paints people who are fishing or people who are having dinner at the table … his work is very vast," said Carter's daughter, Cecilia Carter.
Carter's exhibit is particularly noteworthy to some African-American art historians who point to a recent study showing that just 2.4 percent of all acquisitions and gifts and 7.6 percent of all exhibitions at 30 prominent American museums have been of work by African American artists. The recent Andrew W. Mellon Foundation Art Museum Staff Demographic Survey of 181 art museums in North America found that African Americans are greatly under-represented in mainstream art museums as directors, curators, conservators and educators. Those who study African American art say that solving this dilemma requires a year-round approach.
"We can't just focus on it during Black History Month," said African American art historian Crystal Johnson, Ph.D. "These two statistics go to hand-in-hand and prove what we already know. We need more African American students to explore their artistic talents and we need more students to take chance on a non-mainstream career and pursue jobs in museum administration. In order to make any changes, we need to have a seat at the table."
One such aspiring decision maker is recent a George Mason University graduate who landed a position as the co-curator of an exhibit at Howard University. "I'd worked with an exhibition, but I've never had the chance to curate before. I was excited and nervous," said Kourtney Riles of the exhibit called, "An Examination of Feminist(s) Subjectivity in Modern and Contemporary African American Art."
Art plays a vital, but often overlooked role in African American history, not just during Black History Month, but all year long, advises Angela Black, who has taught art history. "Art is a way of preserving our history," she said. "It tells our story and we need more professionally trained artists who can do that."
One organization with a mission to help promote and preserve the art of Africans Americans is Black Art in America (BAIA). "We found that there was a lack of a platforms and representation for Black artists, said Najee Dorsey, BAIA founder. "We're about how a rising tide a can raise all ships and we've proven to be a platform for sharing our stories."
Encouraging the African American community to take the appropriate steps to ensure that African American culture is preserved though museums is a goal of Lonnie Bunch, founding director of the Smithsonian's National Museum of African American History and Culture. He advises that, "Whether we like it or not, museums, archives, and libraries not only preserves culture they legitimize it. Therefore is incumbent of African Americans to work with cultural institutions ... [and] While African Americans have few traditions of giving material to museums, it is crucial that more of the black past make it into American cultural repositories."
Carter's exhibit, which features rarely seen artwork from his daughters' private collection, runs through March 3 at the Fred Schnider Gallery of Art, 888 N. Quincy Street, Arlington. Several pieces will be available for sale.
"The exhibit and his work reflect everything that he's been through, what he's seen, and what other people have been through and seen," said Big Al's daughter Flora O. Stone, Carter's daughter.