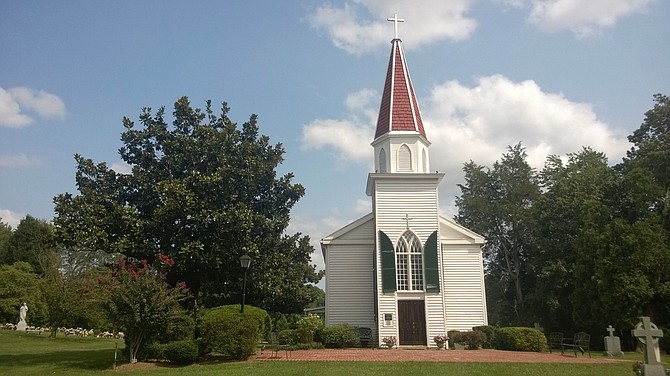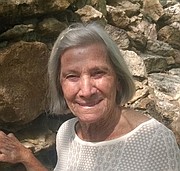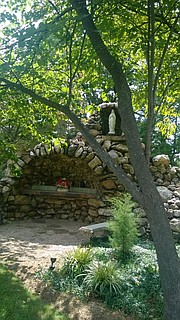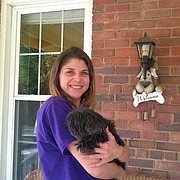 At Sunday morning mass Aug. 19 in the historic Saint Mary of Sorrows Church at the corner of Fairfax Station and Ox roads, a retired priest encourages parishioners to keep the faith. He also asks them to pray for victims of abuse and clergy as the Roman Catholic Church weathers another storm wrought by scandal.
This particular church is strong and nearly filled to capacity. Built in 1858, the chapel is rooted in hard work and charitable acts in Fairfax Station.
It served the spiritual needs of Irish immigrants laying tracks for the Orange and Alexandria Railroad. Soon afterward, the building became a temporary field hospital during the Civil War.
An "angel of the battlefield" named Clara H. Barton is mentioned in a historic marker by the entrance to the church — where she nursed in 1862 wounded and dying Union soldiers from the second Battle of Manassas and the engagement near Chantilly.
DURING A TRIP TO EUROPE, Barton learned about a global Red Cross humanitarian relief network and wanted her country to participate. She founded the American Red Cross in 1881 at age 59 and ran it for 23 years from her home across the Potomac River in Glen Echo, Md.
Barton's mission continues to this day.
A visiting padre tells the congregation Sunday about his service as a missionary in the Dominican Republic at "a church without a priest for 20 years because no one wanted to serve there." There he helped residents in a town so neglected by the government, its people had no electricity, running water and no telephones. Members of the congregation offered prayers and financial support so priests can help parishioners abroad.
Fairfax Station resident Marie Mancuso, 87, and her late husband were active members of the Church of St. Mary's, which has a much larger sanctuary nearby in Fairfax at 5222 Sideburn Rd.
"We served coffee and doughnuts for 25 years after mass," she said Aug. 19.
"I love St. Mary's," she said. "I'm going to be buried here" at the historic church. "and my husband is buried here."
The church's stone grotto is a rock in the community, where individuals can light a candle and pray at an outdoor Catholic shrine. Park benches and a garden provide serenity and a peaceful place for quiet contemplation. Learn more about this church and programs online at stmaryofsorrows.org.
The church's parking lot offered this reporter and a few other curiosity seekers a preview to the "greatest show on earth" nearly a decade ago, as circus animals were paraded from the Ringling Bros. and Barnum & Bailey Circus train up Hill Street, along Fairfax Station Road, up Ox Road and along Braddock Road to the former Patriot Center arena at George Mason University.

THE MIDNIGHT PARADE featured ponies and their handlers. Elephants followed each other using their trunks to gently hold onto the tails of the elephant in front of them.
Between the church and train station museum, a pet rescue center called Homeward Trails finds homes for dogs through their adoption center at Tinkers Lane and Fairfax Station Road. Counselors are on site to answer questions every Saturday and Sunday from 10 a.m. to 4 p.m. Visit their website at homewardtrails.org.