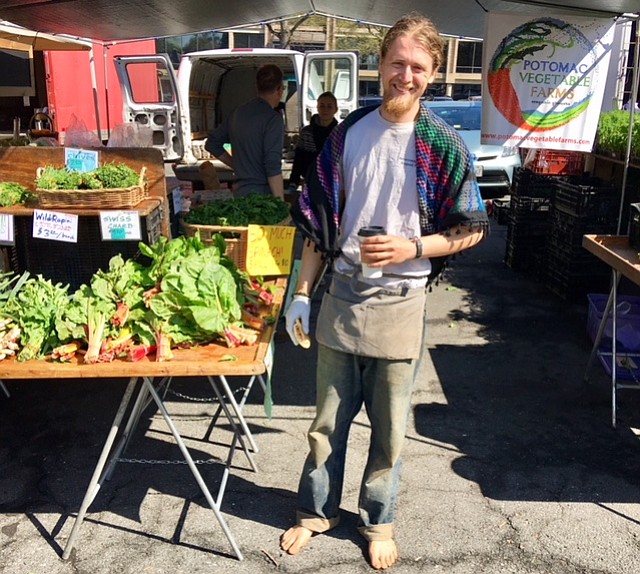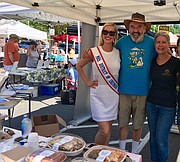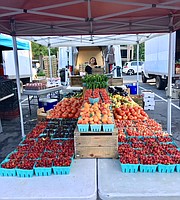 It seems so long ago that the Reston Farmers Market had its humble beginning in the Lake Anne Village Center parking lot. A deserted Lake Anne sprang to new life that Saturday morning, May 5, 1998, when Founder Robert Simon, Del. Ken Plum and I opened Reston's first farmers market with a modest contingent of 12 vendors. The original idea for the Market came from Debbie Sphrentz. She organized a group calling themselves Friends of TOMATO (The Organic Market At Tall Oaks) and lobbied to establish it in her Tall Oaks neighborhood. But, Giant Food, then ruler of struggling Tall Oaks center, nixed the idea. Debbie turned to Lake Anne and, with support from Lake Anne Condo President Martha Green and the Fairfax County Park Authority as sponsor, got the necessary approvals. She went to Reston Association to seek a Market Master (then RA VP John Lovaas volunteered) and advertising help.
The Reston Farmers Market was warmly received and drew good crowds pretty much from day one. With our group of 12 local farmers on opening day, Lake Anne came alive. The RFM has grown steadily since.

We opened the 2018 season (April 21 to Dec. 1) with 30 vendors, plus tents for the Supplemental Nutrition Assistance Program (SNAP) and Fairfax Master Gardeners. Once the season is in full swing, we'll have 2,000, perhaps as many as 3,000 shoppers each Saturday morning. It is number one in Fairfax County and among the best in the metro area. A totally separate crafts market operates on the Plaza next to RFM, giving Lake Anne Village Center the air of a grand bazaar each Saturday.
So, what fresh, local foods and home-made goodies will you find at the Reston Farmers Market? From the beginning the Market's heart and soul has been fruits and vegetables including organics. Varieties have grown dramatically – e.g. we offer 30 or more kinds of apples, peppers and tomatoes as well as a selection of eggplants, cabbages, squashes, even corn, that will amaze you.
Fresh dairy includes cow's milk and cheeses, ice cream, and goat cheeses. We have a great selection of meats: many cuts of beef and pork, chicken, goat, rabbit, and our low-fat, low cholesterol favorite-local water buffalo meat. Fresh caught seafood from the Chesapeake Bay and its tributaries, includes crabs, rockfish, oysters and more. Four bakers provide scrumptious breads, pastries, pies, cakes, and cookies. Other goodies include: honey, hummus, pickles, meat pies, and salads. Did we mention our colorful plants and flowers?

For more info, go to: www.restonfarmersmarket.com or call 703-429-1117.