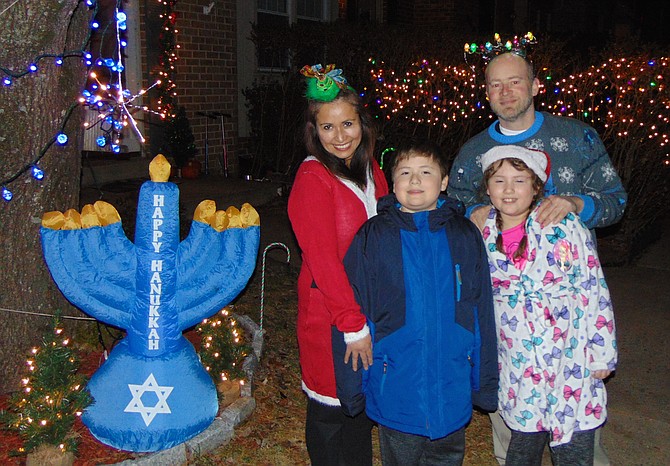 The Schwartz family of the New Lakepointe community in Burke have come up with the perfect mix of holiday decorations for their interfaith family. The front yard of their home merges both Christmas and Hanukkah with an inflatable Hanukkah candle and blue lights as well as Christmas trees and lights; their living room has a sparkling Christmas tree.
Dad, Elliott, 48, is Jewish and a social worker (licensed clinical therapist) who grew up in Burke since he was age 8. Mom, Maria, 45, is Christian and works in sales for a Hispanic newspaper; she's originally from Peru. They have a son named Ethan, 11, and a daughter named Ellie, 9.
"We're trying to make it bright because that's what Hanukkah is – it's the Festival of Lights," said Maria of the decorations. When they got married, they agreed to raise their kids exposed to both religions – so they celebrate both Hanukkah and Christmas, Maria said.
"We call it our 'Christmukah' celebration," said Maria. "We're trying to teach our kids that we celebrate everything and that kind of helps because you're raising tolerant, flexible children to embrace all religions."
She added: "We all love one another – we come from different backgrounds, different countries, different religions; and we speak different languages. We look different, but we still love one another regardless."

According to Elliott, who attended Robinson Secondary: "When we met, I used to have a pretty negative attitude about Christmas because being Jewish, especially back in the '80s, so little was advertised about Hanukkah and Judaism in comparison to Christianity and Christmas … When I met her, she changed a lot of that and some of my negativity toward the holidays in terms of being left out."
Regarding her decorations, Maria said: "The hardest part about it was finding Hanukkah decorations because they're not as popular as Christmas…the whole family gets involved in the decorating; the kids love it. There's never enough lights for them. That's the fun of it. We are all involved in the decorating."
Dad added: "The hardest part was getting them up in the trees. I got to use my football skills and throw it up there so it gets over the branch and stays in a certain way."