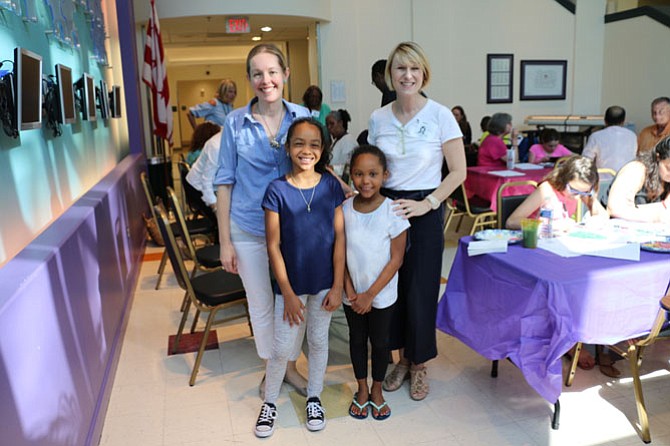 "…With this event we got the chance to interact and collaborate with the children that these events benefit. It's been a much more hands on experience for us. And who doesn't love decorating holiday trees?" — Nadia Subaran of Aidan Design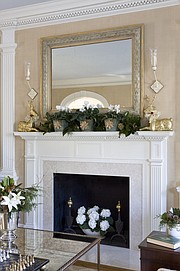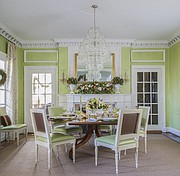 Light Up the Season
A family-friendly event at The Four Seasons Georgetown.
Tickets for the Dec. 3 event are $50 per child 12 and under, $100 per adult, or $250 per family of four (two adults and two children 12 and under). For more information including how to be a sponsor and to purchase tickets, go to childrensnational....
Holiday decor will be on display starting Nov. 28 through Dec. 20.
Some local designers are collaborating with patients at Children's National Health Center to deck the hall for charity. The tastemakers are creating holiday trees, mantle pieces, wreaths and a menorah for a community fundraiser called "Light Up the Season." The Creative & Therapeutic Arts Services at Children's National worked with the Children's Health Board to pair designers with patients for inspiration.
"We were very excited to learn about Light Up the Season and be able to take part," said Nadia Subaran of Aidan Design. "Over the years we've been regular participants in the DC Design House, another charity event benefitting Children's National. However, with this event we got the chance to interact and collaborate with the children that these events benefit. It's been a much more hands on experience for us. And who doesn't love decorating holiday trees?"
Subaran, along with Megan Padilla and Kelly Emerson also of Aidan Design created a holiday tree design called "A 'Wimpy' Tree – A Tree in Cartoons," which was inspired by a patient named Wesley and his favorite book series, "Diary of a Wimpy Kid."
"Our tree will explore a black and white theme in keeping with the graphic novel genre," said Subaran.

The design team says that they used 2- and 3-D interpretations of classic Christmas décor combined with "striking graphic visuals, pops of color, and a good dose of wit, the tree will be both a throwback to a simpler time and on trend for young readers."
"A Guiding Light" is the name of the mantel design created by Kelley Proxmire of Kelley Proxmire, Inc. and inspired by a patient named Cheyenne. In creating her mantel, the designer said that she, "tied in biblical references to light, which are shown throughout the display, and incorporated Cheyenne's favorite color: red for a red, white and silver-themed mantel."
Two sisters named Leilah and Ava were the inspiration for a tree design called, "A Colorful Family Christmas" by Annie Elliott and Christy Maguire of Annie Elliott Interiors. "When asked what they liked best about Christmas, the girls agreed that being together with their entire family was tops," said Elliott. "In that spirit, they inspired our theme, 'A Colorful Family Christmas.' Playing board games, reading stories, sitting around a fire and decorating the tree also are favorite family activities. You'll see all of these holiday traditions reflected in our tree's decorations."
"Leilah and Ava have many favorite colors, but a winner for both is teal," added Maguire. "Therefore, teal drives the tree's color palette, and other of the girls' favorites, purple, blue, and green, also are included."
Other area designers include Lena Kroupnik of Lena Kroupnik Interiors, Allie Mann and Alexandria Hubbard of Case Design/Remodeling, Inc., Camille Saum of Camille Saum Interiors of Bethesda, Md.; Victoria Sanchez of Victoria at Home, Susan Nelson and Todd Martz of Home on Cameron, Ashley Greer of Atelier Ashley Flowers of Alexandria; Pamela Harvey of Pamela Harvey Interiors of Herndon; Josh Hildreth and Tara Price of Josh Hildreth Interiors of Reston and Lisa Tureson of Studio Artistica in Oak Hill.
The holiday designs will be on display during a family-friendly community fundraising event to benefit Children's National at Four Seasons in Georgetown, 2800 Pennsylvania Avenue, NW – on Sunday, Dec. 3 from 1-4 p.m. There will be activities for all ages, such as holiday cookie decorating, ornament making, a visit from Santa and Children's National Dr. Bear mascot, musical performances and youth entertainers, silent auction, and light fare and libations. In addition, guests will be encouraged to write holiday cards for Children's National patients. Visit childrensnational.org/lightuptheseason for more.