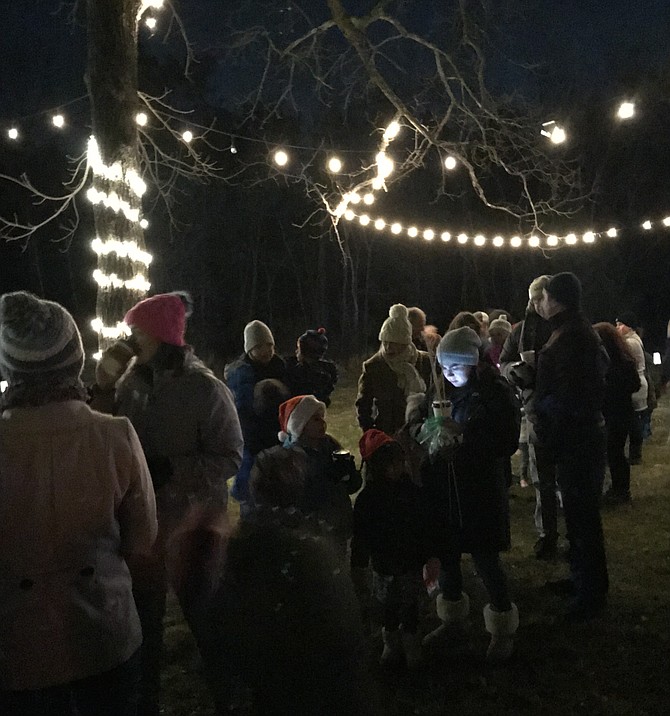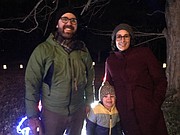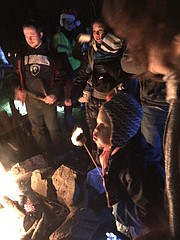 Herndon Parks and Recreation has an in with Santa. For the second time in a week, the sought-after man in red stopped in the Town of Herndon. This time, on Friday, Dec. 7, 2018, from 6:00-7:30 p.m., Santa made his way deep in the cold dark woods, through the forests of Runnymede Park in Herndon for a low-key and local celebration with friends and neighbors.
Families with little ones in tow, followed hundreds of real candlelit luminaries, down dark, shadowy paths coursing through the forested park. "This is our second Santa, Stars, & S'mores," said Jessica Flores as she and her husband, Les led daughter, Beatrice 2½, down the paths. "She liked it last year, and we'll be making the s'mores again." Continuing, the Flores family spied the canopy of twinkling lights around the next bend, the bonfire and the jolly man in red.
"This event includes some long-standing winter traditions like marshmallows roasting over a campfire, holiday caroling… (It) introduces many to the Town's largest park," said Cindy Roeder, Executive Director Herndon Parks & Recreation. "And of course, Santa is available to listen to each child's wishes. He provides the right amount of holiday magic."
Santa easily chatted up the children while in the background music and carols rang out through the woods, and the bonfire blazed. The smell of roasted, toasty marshmallows filled the air on a frigid night.
The Collar family of Herndon, dad Patrick, mom Ann and children Adrianna, 10, Tiffany, 3, Logan, 8, and Sophia, eight months, led the line to Santa. "This is baby's first Christmas, and it's cold," said Ann, who looked over at the bonfire. "It's s'mores on sticks next," she said, but not before the visit with Santa.
The Neuroth family, Maxwell, 4, and parents Trevor and Sarah, prepared to visit with Santa too, but first had to check one of the light displays. Inquiring what he'd be asking Santa to bring him, Maxwell confidently replied that he planned to ask Santa for "…a Bumblebee Transformer Rainbow Cheetah. I think he'll say yes," said Maxwell.
Over by the bonfire, Roeder watched her two grandchildren, Perry, 5½, and Gabriella, 3, roast marshmallows for their s'mores. "Blow," she urged Gabriella and Perry as their gooey marshmallows burst into flames. "The kids were super excited for Santa to arrive," confided Roeder. "Santa, Stars and S'mores is an opportunity for families to get outside and chat with friends and neighbors in a holiday setting," said Roeder.
The next Herndon Parks and Recreation Special Event is the Father Daughter Dance on Saturday, Feb. 2, for 3-19 years olds. Register through Herndon Parks and Recreation.