As the wind whipped off Lake Accotink, it fed the campfire as Karen Roos handed out the marshmallows, chocolate and graham crackers for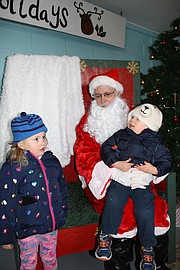 s'mores.
"I think our marshmallows have actually frozen," said Roos, holding the bag.
The park's event included the campfire, the hayride and Santa's room that had a heater. Sophia McConnell, 11, went from Santa's lap to the smores. "I told him three things, stuff I want, they're in different groups," she said. Science and sequins were the groups.
Santa wasn't sticking with the naughty and nice requirement from the song "Santa Claus is Coming to Town." "Santa wants you to be as good as you can be," he said.
Sophia's mother Shobha McConnell had another wish. "We just need a little snow," she said.
Early in the afternoon, there was a full load on the hayride, with Josh Smith, the park manager at the wheel. "We had a decent turn out," he said.
S'mores, the Campfire Treat
S'more is a contraction of the phrase "some more." One early published recipe for a s'more is found in a book of recipes published in the 1920s, where it was called a "Graham Cracker Sandwich," according to Wikipedia. They say the treat was already popular with both Boy Scouts and Girl Scouts. In 1927, a recipe for "Some More" was published in "Tramping and Trailing with the Girl Scouts."