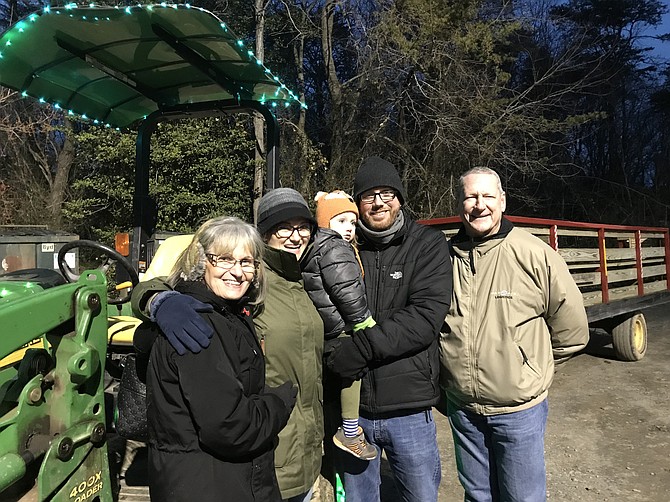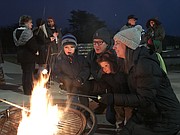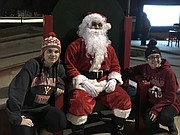 Fairfax County Park Authority presented its new magical winter light show, "Starlight Express at Lake Fairfax," Saturday evening, Dec. 7. Families got in the holiday spirit as they climbed aboard tractor-driven wagons. Riding in comfort, they viewed a section of the park decked out with illuminated stars, original handcrafted wooden forms such as the colorful tall toy soldiers created through a Park Authority-wide effort and inflatables. Holiday-themed characters greeted viewers.
"My parents (Cindy and Chip Paris) are in town from Ohio," said attendee April Schroeder of Springfield as her husband Shane held daughter, Harper, 2.
"Fairfax County has so many activities. It was hard narrowing down which park event to go to tonight." Wiggling in dad's arms, Harper stretched her arms out toward the tractor illuminated in strings of green lights and called out, "I'm ready to go on the tractor."
The Park Authority offered additional holiday cheer at the light show beyond the much-anticipated wagon ride. Dan and Joanna Drake of Reston helped their children, Elliott, 2, and Nolan, 3, prepare s'mores. They showed their children how to rotate the skewered marshmallows over the campfire fire, slow and low. The couple let the cubes of gooey mess catch on fire for a crispy outside, followed by a quick blow and placement between graham crackers bedded with a chocolate bar.

After wiping off sticky fingers, Joanna Drake explained why she picked the light show at Lake Fairfax. "We saw the event online, and it seemed like fun. There are marshmallows and tractors too... The boys love both. It was a win-win," said Drake.
While families gathered at the campfire and awaited the return of the wagons that arrived back every 20 minutes or so that would take them through the winter wonderland of lights, they warmed up with hot cocoa and took time to visit with Santa who sat near the campfire.

With no long lines like at the mall, parents overheard real conversations between their children and the man from the North Pole. Even teens settled in beside Santa. Vienna friends Ally Paruti, 13, and Chrissie Baaklini, 13, sat beside Santa for a chat. Ally's, dad Mike captured the moment in a photo.
Park Manager Dan Grulke looked over the setting. Asked about the event and being out in the woods under the starlit sky Grulke said, "The staff at Lake Fairfax Park always enjoys putting on festive events for the public of all ages."
Santa agreed. "I love being at the "Starlight Express at Lake Fairfax."
The event recurs weekly on Fridays and Saturdays through Dec. 15 from 5-8:40 p.m., 1400 Lake Fairfax Drive, Reston. Space is limited; register in advance at Fairfax County Parktakes or call 703-222-4664 or 703-471-5415 x 0.