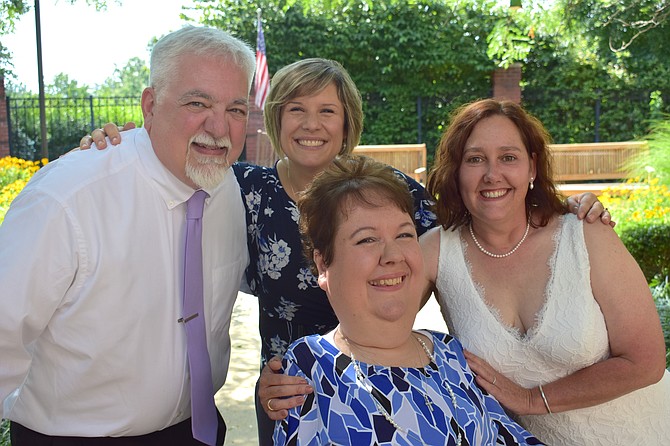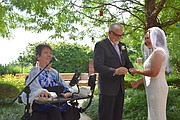 In July, Michelle Smith (now Michelle Tardie), a Sunrise Senior Living team member, married Moe Tardie, her boyfriend of over six years. The couple decided that they wanted to have their wedding ceremony at the community where Michelle worked, Sunrise at Reston Town Center, so that residents could be involved. Michelle has been with Sunrise for nearly 12 years, and Moe visits regularly to spend time with residents and form relationships.
"My family all understands that working at Sunrise is not just a job to me but my purpose in life and my passion," said Michelle, who now works at Sunrise at George Mason. "My residents are family to me, and when the timing was right for Moe and I to get married, we decided we wanted my residents to be with us for our special day."
A great number of residents, team members, and family members from the past and present were on hand to witness the beautiful ceremony in the community garden. The wedding was officiated by Irma De La Pena, a dear friend of Michelle's and the sister of Michelle's coworker, Michelle Roseberry. Three residents read Bible verses, and Michelle's daughter sang "Broken Road" while her son walked her down the aisle.
"The residents are still talking about the wedding," said Michelle. "The ones who read our Bible verses were happy to have an important role in our wedding. It gave them great purpose, and they were beaming while they read."
"As my mom's mobility has declined, we have few opportunities to go out and experience the world," said Dagny Goldwein, the daughter of a Sunrise at Reston Town Center resident. "To be able to attend Michelle's and Moe's wedding at Sunrise was a true honor and a wonderful way to come together as a both a family and a community and enjoy a truly joyous life milestone."
Michelle has recently moved from her position at Sunrise at Reston Town Center to a new role at Sunrise at George Mason. As a Reminiscence coordinator, she helps bring meaning and purpose to the days of residents living with Alzheimer's disease and other forms of dementia.
"I cherish my relationships with my residents and their families," Michelle said. "Serving my residents brings me a lot of joy. After ensuring they have received the highest quality of care, have taken any medications they are supposed to, and are enjoying their meals, I get to enjoy spending time with them singing, dancing, laughing and hugging every day. I enjoy sharing the funny stories with my family and I keep a journal with my favorite memories in it."