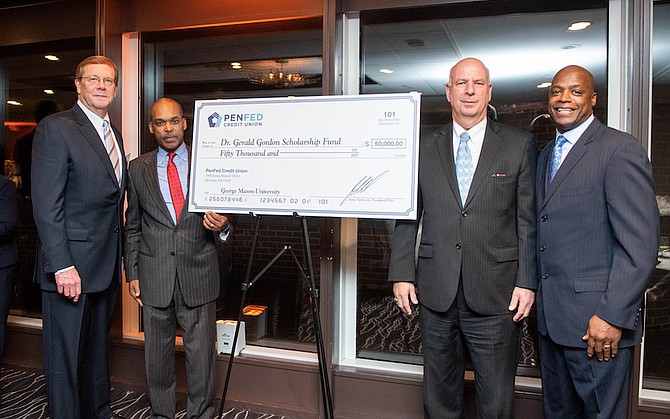 On Dec. 5, PenFed Credit Union made a challenge grant of $50,000 to start the Dr. Gerald Gordon Scholarship Fund at George Mason University. The donation was presented by Rocky Mitchell, PenFed Executive Vice President of Global Fixed Assets, during a celebration hosted by the Fairfax County Economic Development Authority (FCEDA) Commission in honor of Dr. Gerald Gordon's 35 years of service to Fairfax County.
The evening event honored Dr. Gordon, who is retiring after serving as president and CEO of the FCEDA in Fairfax County. PenFed's Mitchell is a member of the FCEDA Commission, the Authority's governing body, and served with Dr. Gordon for the past three years.
"Jerry is an asset to Fairfax County and indeed all of Virginia," said Mitchell. "He was instrumental in PenFed's acquisition of our new Tysons headquarters and has supported many of our key initiatives. PenFed's President and CEO, James Schenck, and our entire Executive Team feel this challenge grant is a most appropriate way to celebrate Jerry's legacy."
Dr. Gordon taught at George Mason University, Catholic University, the University of Maryland, and Virginia Commonwealth University. In the last decade, Dr. Gordon has chaired the boards of the Fairfax Symphony, the Arts Council of Fairfax County, the Foundation for Fairfax County Public Schools and the George Mason University Honors College. He also has served on the board of the International Economic Development Council and is a Fellow Member and Honorary Life Member of the organization.
The event was held at the Tower Club, Tysons Corner, in Tysons, Virginia. Attendees included many from the Fairfax County business community and Fairfax County government.
To learn more about PenFed Credit Union, visit PenFed.org