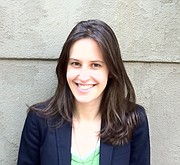 You can take the woman out of Washington, but you can't take the Washington out of her. Consider Sarah Burgess, a playwright who hails from Alexandria. In her now-showing play, "Kings," she demonstrates the staying power of this area's pervasive influence. She wrote the script to explore what goes on between lobbyists and politicians.
The comedic plot of "Kings" unfolds around brand new Congresswoman Sydney Millsap as she navigates Washington's terrain — specifically, her dealings with two persistent lobbyists trying to lure her in different political directions with promises of money and power. After a successful opening night on Dec. 12, "Kings" is currently playing at Washington, D.C.'s Studio Theatre through Jan. 6, 2019.
"I had been fascinated with the mechanics of political fundraising," the now New York-based Burgess said. "I was interested in a certain reality of how much work politicians and candidates have to do to raise money, especially when they aren't wealthy. I wanted to address how tough, and unpleasant at times, it all can be."
The bureaucracy was a backdrop to Burgess's childhood. With retired United States Navy commanders as parent, she has a keen understanding of the government and its subculture.
"I grew up mostly in the '90s, and my mom and dad worked at the Pentagon for a good portion of that time," Burgess said. "I had a real interest in institutions and I really believed that they worked to a certain degree. They felt very solid to me then. I also loved hearing day-to-day chronicles of people's jobs, especially what went for my mom at the Pentagon: the office jokes and the annoying habits of coworkers. It struck me that all those normal things were happening in this iconic building."
Burgess doesn't just see the government and its processes as fodder for her plays, either. Her interest in the institution is by and large non-partisan, and "Kings" follows suit.
"It's about the system itself," she said. "Representatives from both parties have voted both ways on these tax and fundraising issues. I did a lot of reading and other research on the topic. After I finished the first draft, I found people who worked in this field. I've found that people who aren't in the entertainment business love to read the scripts and tell me where I got things wrong. It's great. I always want to get it right. So, that's the sort of practice I'll do for everything I write."
"Kings" is Burgess's second play to hit major stages, with its February 2018 worldwide debut at New York City's Public Theater.
"I'm pleased by the reception so far," she said. "I know that, depending on where a theatre is, there are going to be different views that people bring. 'Kings' is a comedy about a part of D.C., so I have no idea how it will land here. I'm interested to see how it does."
The whole D.C. production process has been somewhat of a homecoming for her, and she herself is looking forward to this version of the show.
"It's my second play, but it's the first one I'm coming back home for," she said. "This is a whole different cast and crew than that of the New York production. That's usually the way it goes because it's the individual different theaters that buy rights to the play. I had a great time with the whole cast in New York and I learned a lot from them. I have no training in theater, though, so every production is different. And, being with the whole D.C. group rehearsing has been really exciting, too."
Burgess has also made a few trips back to Washington to assist with casting.
"Studio is an amazing theater for playwrights and for directors, so although this is not the first production of the play, Sarah was still involved in our process," Director Marti Lyons said. "We collaborated together on casting, on the production, and on a few developments of the script. She has been a fantastic creative partner along with our dramaturg, Lauren Halvorsen, and our phenomenal cast and design team."
The decision to direct "Kings" was a no-brainer for Lyons.
"I found the text invigorating, funny, and unsettling," she said. "I liked that the story centered on female characters and follows a series of events as they affect each other's lives. Ultimately, though, the play points to something larger. It engages many questions; one of those questions is, 'Is change possible?' It's one of the many questions I find so resonant and immediate in the piece."
Lyons added that working with a Washingtonian about a Washington-based play was really something special.
"This is my first time working with Sarah Burgess and it has been a pleasure," Lyon said. "It was exciting. I am a Chicagoan who works in D.C. frequently and loves it here, so I had an outside perspective to share. But several of our cast members, designers and, of course, Sarah, are from D.C. or have lived here for a long time. It's a nice balance of insider knowledge and outsider observation. Sarah did a lot of research and made many of her own connections in the crafting of the play. Sarah is a brilliant, thorough, very funny writer and she's also a great collaborator."
As thorough as Burgess is, she is not an artist who has been honing her craft forever. While you hear about painters who have been brushing strokes since they could hold a paintbrush, or poets who have been rhyming since they found their voice, this playwright took a little longer to find this passion.
"I suppose I was kind of late to it," Burgess said. "I actually didn't participate in theater programs as a kid at Fairfax County Public Schools. After graduating from West Potomac High School, I went to NYU for its undergraduate film program. It was there that I fell into a group of actor friends, which finally got me acquainted with theater. Then I did a semester abroad in London, where I took a theater class. That's when I started writing plays."
NYU opened Burgess up to a world quite unlike Washington, D.C., and she embraced it fully.
"Being at NYU, I got comfortable living in New York," she said. "There is a risk in studying film as opposed to something that will tie you to a more traditional career. But, a lot of my peers went on to work in the entertainment industry in a number of different ways. It normalized that trajectory in a way. It set me up to get access to the theater community, too. I remember my dad saying, 'Pursue the best job, whatever you want — even if it feels ambitious.'"
Before her first play "Dry Powder" made it to a prominent Off-Broadway stage, Burgess tutored to earn enough money to pay her bills. This left her with evenings to focus on her script work.
"I spent my days tutoring math, going to different high schools around New York," she said. "It was mainly Algebra and basic Geometry. I earned enough so that I could write at night. It put me on the path to get me where I wanted."
It was in 2016 that Burgess first realized one-in-a-million type of success with her play, "Dry Powder." This Wall Street drama also ran at Public Theater and starred some household names, including Claire Danes and John Krasinski.
Still, Burgess remains humble.
"I definitely don't feel 'big time,'" she said. "I haven't had that feeling yet. I always want my writing to be better, especially because these two plays have been my first experiences with big production. Everything about 'Dry Powder' was so surreal, but the actors were so nice and really focused on the play. It was really, really great to see it all come together."
Even after "Kings" finishes its Washington, D.C. run, there is more to come from Burgess. Not only does she have a third play that will soon see production, but she also has a number of budding goals and ideas.
"I love musicals and I've sort of talked about one day writing one," she said. "At the end of the day, though, my main ambition is to write a good play. Every time is different, and you just start from nothing. It's exciting to think about because you never know what idea is going to stick."
For information on Studio Theater's production of "Kings," visit https://www.studiotheatre.org/plays/play-detail/2018-2019-Kings.