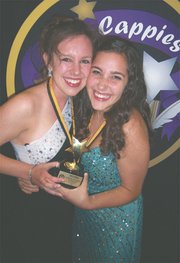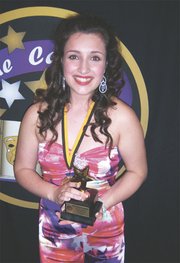 Woodson High won three awards, and Fairfax, Paul VI and Robinson Secondary, one each, at Sunday night's 13th annual Cappie Awards at The Kennedy Center in Washington, D.C.
Overall, Westfield High won the most Cappies, garnering 10, including Best Musical, for "Crazy for You." The Best Play winner, McLean High, took home five awards, including Lead Actor and Lead Actress in a Play, for its production of "A View from the Bridge."
Paul VI senior Sean Pugerude captured the Cappie for Lead Actress in a Musical for her portrayal of matchmaker Dolly Levi in "Hello, Dolly." Afterward, the jubilant senior said, "This is totally mind-blowing; it's such an honor. Maybe what set it apart was that PVI's actors had a lot of challenges – we were doing a period piece and playing characters a lot older than we were." Pugerude is now headed to VCU to major in theater.
"Sean deserved this award," said her proud director, Katherine Miller. "We had nothing but faith in her. If there was ever a girl born to play a part, it was her to play Dolly."
Winning the Cappie for Comic Actress in a Musical was Fairfax junior Alexandra Nicopoulos for her role in "Sweeney Todd." Surprised, but delighted, she said, "I really wasn't expecting this; I still can't believe it. I thank my parents and the entire cast of 'Sweeney Todd' – this is for them. They're the biggest support system of my life."
Woodson's starry statuettes were for Makeup, Costumes and Creativity for its production of "Alice in Wonderland in Steampunk."
Senior Brianna Weiner said she was "completely shell-shocked," but happy about her Cappie for Makeup. "I've seen the work of the other shows' makeup artists and was blown away by it," she said. "My crew did an amazing job and, if I asked them to modify things, they did. I'm just so proud of them."
Accepting their award for Costumes, seniors Ana Mendelson and Abby Deatherage thanked their crew, Director Terri Hobson and their theater family. "It's hard to believe we won because the costumes were made from parts of things in my basement," said Mendelson. "We used bottle caps, backpacks, cereal boxes and bike chains."
"For two years, we've dreamed about bringing a Costume Cappie to Woodson," said Deatherage. "Ana and I and our crew worked so hard on our costumes and put a lot of time and detail into everything."
Senior Arjun Baxter won the Cappie for Creativity for composing all the music for the show. It took him two months to do, and he said the hardest part was putting author Lewis Carroll's words to music.
"I read the play script and book and saw the movie multiple times, listening to the words to get a feel for them," he explained. "Then I wrote several songs, as well as the transfer music between scenes. I was especially influenced by Dvorak; his work inspired the main theme and the string feel I was going for." This fall, Baxter will attend the Eastman School of Music Conservatory to double major in upright-bass performance and composition.
Robinson's honor was for Ensemble in a Play for the Mechanicals in its production of "Ken Ludwig's Midsummer/Jersey." Comprising the ensemble were Jamie Green, Molly Johnson, Brandy Skaddan, Carys Meyer, Sarah Marksteiner and Mary Turgeon.
"It's very exciting," said Johnson. "We never expected to win, but hoped to. We're all so close with each other so we could play off each other's energy." And, said Meyer, "Our characters were so big and exaggerated that we could have fun with them, and the audience did, too." Green said what made their roles so great was that "since we weren't part of the main story, we got to play around with our characters." "[Playwright] Ken Ludwig gave us a lot of freedom to change things in the show," Johnson added.