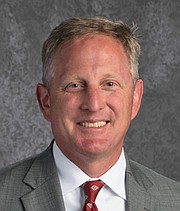 Scott Poole, Chantilly High's principal, says he's excited about a number of things happening at his new school. Among them are a place where students may create high-tech projects and a plan to better ensure success for Hispanic students.
"We're in the midst of creating an innovation lab in our library," said Poole. "And we're getting support from a volunteer-based nonprofit, Asha-Jyothi, which serves the needs of the underprivileged. It's run by Chantilly parents who've donated a substantial amount of money to the school to create this lab."
According to the proposal, the lab will provide diverse tools that will grow with the students and "enable them to be 21st-century learners." It will have access to new technology and programs to make the "student-centered environment more engaging and, ultimately, more meaningful."
The goal is to make this an active and stimulating spot where students may create imaginative and innovative work. The proposal says this Charger Innovation Lab will be "all-inclusive, catering to every student by including multi-functional furniture and flexible seating options." It will also offer the latest technology that students may use in both individual and collaborative projects.
"It's for kids to explore their interests, innovate and create," said Poole. "They'll be able to build things and create learning communities. And if they want, they can work with kids with similar interests. It will be a place to try things out and give access to STEAM (science, technology, engineering, arts and math)-oriented topics to kids who might not otherwise have this access."
Even if they're interested in working on their hobbies — such as building a robot out of LEGOs — they could do it here. Other topics they could explore would include coding, 2D/3D design and prototyping, robotics, electronics, photography, video editing, audio mixing and engineering. This experience will enable them to develop the skills demanded by many of today's colleges and employers.
The lab will be open before and after school, during lunch and during "Charger Time" that students may use at their discretion. There'll be six, different stations, and teachers may also bring their classes there to work on a project or supplement the classroom work they're doing. Said Poole: "We want to create a top-notch space for generations to come."
On the Hispanic-students front, the Chantilly High Pyramid is creating the Latino Partnership for Success. "Our Hispanic parent liaison, Ana Bauserman, and I are working on this together," said Poole. He also noted that a similar thing was done with the Fairfax High Pyramid and Lanier Middle School.
"Our Hispanic community is one of our fastest-growing subgroup of students at Chantilly," said Poole. "The goal is to better connect our Hispanic families with the schools and other support services and resources to help their children be successful in school and in life."