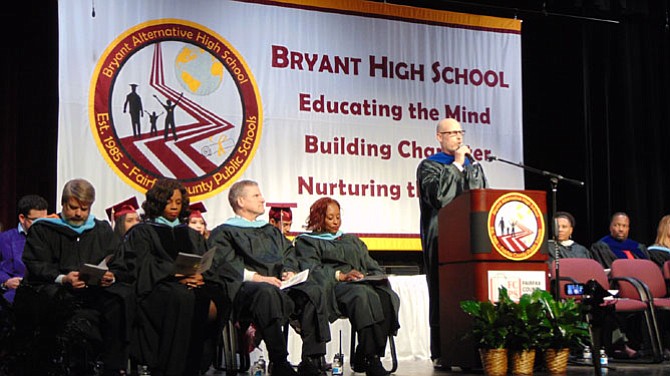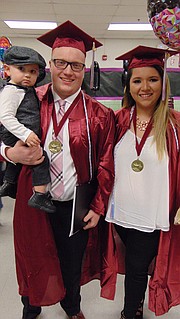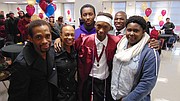 With plenty of pomp and circumstance, Bryant High School held its winter commencement ceremony for 55 graduates on Thursday, Feb. 8, at the high school auditorium on Popkins Lane in Alexandria. The ceremony included the Presentation of Colors by the Hayfield Secondary JROTC Color Guard as well as the singing of the National Anthem by Clifton Ross III, and a video of graduating student testimonials. Student Aron Joel Corrales-Ferrera recited the Pledge of Allegiance and Principal Dr. Christopher Larrick welcomed guests and gave opening remarks.
Larrick said the Bryant staff welcomes all students regardless of their circumstances. "We are less concerned about why you are here and we are more focused on what we can do to help you," he said. "I've learned that our students at Bryant, the graduation seniors in front of us today, are much more than what you think. They are strong-willed, determined, and arrive here today having overcoming many obstacles and challenges along the way," he said.
He continued: "Some of our students, as you know, have already started families. Many work part-time and some full-time jobs while going to school, and many have traveled halfway across the county to get here each day. Some students even dropped out of high school to return here for one last chance to graduate."
Student speaker Fariha Pirzada said from elementary school through her junior year, she would always get into trouble and be distracted. "Throughout my first three years of high school, I was not paying attention to my academics and I was missing a lot of school," she said. "When my senior year approached, I made the decision to come to Bryant because I had six missing SOLs."
"So, I decided to challenge myself and double up on my classes and graduate early in the first semester," she said. "This was an eye-opener for me. I could use this opportunity and get myself out earlier and move on with my life by getting a good-paying job. I realized my high school diploma is a stepping stone for a higher education."
She said a lot of people underestimated her along the way. "But from my high school experience, I've learned that it's never too late to actually try and get what you need to get done in order to help yourself succeed. Your attitude determines your direction," she said.
Maricarmen Valeriano-Cruz, who gave the Student Welcome, added: "With hard work and determination, we have made this day possible but it doesn't end here. I want you to always keep in mind that there will be obstacles, there will be doubters and there will be mistakes …. So, when we leave here this afternoon, we will all walk out with the memory of having the honor of graduating from Bryant High School."
Bryant students receiving senior awards and scholarships included: Project Opportunity and Elizabeth Link Scholarship – Jennifer Cecilia Hernandez-Custodio; Defense Acquisition University Scholarship – Hung Pham; Spirit of Learning Award – Meer Hassan; Salute to Tenacity Award – Jhonnatan Coto-Hernandez; William Cullen Bryant English Award – Hung Pham; Tippins Jordan History Award – Hung Pham; Outstanding Science Student Award – Ethan Jacob Southorn; Outstanding Mathematics Student Award – Jose Damian Villanueva-Gaitan; Outstanding CTE Family and Consumer Science Student Award – Alexia Leah Sanchez-Villatoro; Outstanding CTE Business Student Award – Ethan Jacob Southorn; Jobs for Virginia Graduates Program Completion – Lissette Estela Arevalo, Jasmine Roxana Cruz, Jennifer Cecilia Hernandez-Custodio, Ana Cesilia Hernandez-Zelaya, Charles Ethan Joch, Mikyla Moet Kelly, Miya Crystal Menskey, and Fariha Pirzada.