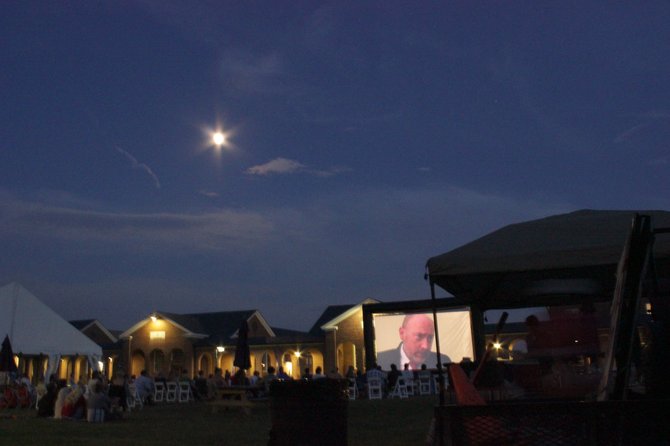 The latest short films of independent filmmakers producing and directing in the county drew a crowd to the Clifton Film Fest, held on the Workhouse quad in Lorton Saturday, July 20.
Photo Gallery
New Filmmakers of Fairfax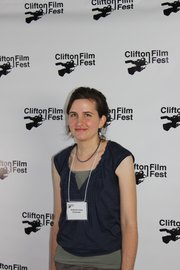 Click Photo for Flash
The festival is a testament to the south-of-the-district film talent burgeoning in the area. Directors like Zack Gross of Fairfax, founder of Hand Me Down Films, a production company and soon-to-be LLC that sprang out of George Mason University's film department, were attracted to the festival for its reputation.
"It is my first time in Clifton Film Fest, but I entered it because it is one of the well known, major venues for filmmaking in the NOVA area," he said.
Gross, along with fellow HMD Films associate, Producer Zach Griffin, found the choice to enter HMD Film's horror-comedy short, "Macabre," an easy one.
"Zack and I sat down and went over a long list of hundreds of festivals to submit to and by the end we had narrowed it to 10. I would say Clifton Film Fest was an easy choice to make because it's local and we would definitely be able to attend it, as well as we would meet so many of our peers in the area and get to show them what we can do that we thought it was a good idea," said Griffin.
"It is my first time in Clifton Film Fest, but I entered it because it is one of the well known, major venues for filmmaking in the NOVA area."
—Zack Gross, director of "Macabre," and founder of Fairfax-based HMD Films
Griffin and Gross are part of a growing group of filmmakers in the Fairfax County area who are eschewing the D.C. film scene for the county one.
Alexander Serban of Chantilly, a freelance video producer, director and editor who showed the music video "Tesla" in the fest, is one example. "There is a growing community of youngsters in our area interested in and making films. From my own network alone I know 20 or so people who grew up here and are doing their thing in LA. I think this is because the area is very affluent, and young people have access to every form of digital entertainment, as well as the tools to tell their own stories."
Serban attended Fairfax High School's Academy of the Arts, where the video production courses jumpstarted his filmmaking education.
Shawn Neifert, another Fairfax High School Academy alum, now 19 and a student at DePaul University in Chicago, entered the film festival with four other former Fairfax Academy classmates. They originally made their film, "My Strength," for the Rubycon Film Festival, which showcased films made by students of former Fairfax Academy teacher Dave Ruby.
Ruby, who taught professional television production at the academy, was laid off in the spring due to declining enrollment. He was the inspiration for Neifert and his friends' film idea. "… Everybody wanted to have a metaphor for what was happening to our teacher, Mr. Ruby. Members of the school board were going to be present at this film festival so we wanted something to retaliate with in a civil way against something we as young adults could not change."
"My Strength" won Best Overall Audience Choice at Rubycon. The prize was a guaranteed slot in the Clifton Film Fest.
Megan Zinn, another Fairfax Academy grad, also showed a film that garnered accolades at Rubycon. "Take it All," a drama about confronting fear of failure and loss, won Best Fiction Student Film, giving Zinn the chance to show at the Clifton Film Fest.
Though the concentration of talent is high at Rubycon and Fairfax Academy, those outlets are not the only local academic programs turning out impassioned young filmmakers.
South County High School students Jacqueline Oliva, Nick Needham and Cameron Powell of Delirium Productions, who already have four films and one student commercial under their belt, entered "Stronghold," a short zombie film.
"I think that this area of Virginia, actually, has more opportunities and support for this particular art than most, and I believe the positive attitude of the community towards student filmmakers definitely makes the process smoother," said Oliva, the film's director.
Delirium has entered the Clifton Film Fest Student Category three years in a row; the team won the People's Choice award in 2011 and Best Editing in 2012.
Robinson Secondary School students Tom Dills of Alexandria, Sean Cooper of Springfield, Emma James of Burke, Chris D'Anna of Springfield, Ben Achtermann of Clifton, and Areej Mohamed, submitted the psychological drama, "Sessions."
Cooper, the editor, grew in filmmaking through involvement in the Cappies program and won the Best Marketing and Publicity Award in 2013.
Kiyoka Rhodes, a Lorton resident of 11 years and alumnus of Word of Life Christian Academy in Springfield, showed her drama short, "Serenity." The American University grad, now working as an NBC4 advertising and promotions department intern, found out about the fest while researching her art outlet options in the D.C./Md./Va region.
Like Gross, Rhodes is pursuing film as vocation and passion. "I am in the process of establishing a multimedia communications company for not only film (narrative, documentary, wedding videography), but also photography and design." Rhodes also worked as a production assistant in the anti-bullying film directed by filmmaker Donald Leow of Clifton, "The Senior Prank," shot locally last year in Clifton, Springfield, Lorton and Manassas locations.
With other area film festivals set in Washington, D.C., the Clifton Film Fest provides a refreshingly un-political setting, says Gross. "As for how D.C. has affected mine and HMD Films filmmaking, this is a bit of a chip on my shoulder.
"Part of the reason for creating HMD Films is to create a hub for narrative filmmaking in D.C. because many of us feel D.C., with it's political and heavy news broadcast atmosphere, does not open itself up to or support narrative filmmakers. I've always been a bit disappointed in D.C. doing narrative films, and we hope HMD Films could change that."
It was the same vision for film-space free of D.C. confines that led Clifton Film Fest Founder/CEO Dani Weinberg to start the festival five years ago. "Most everything was in D.C.," said Weinberg, who went to The Art Institute of Washington and now lives in Clifton.
"Well, there really isn't one out here, so it's kind of like an open market," said Eugene Abedejos, 28, festival technical director, when asked why he and Weinberg would forgo D.C. filmmaking and entrepreneurial opportunities for those of Clifton.
Weinberg met Abedejos in the digital filmmaking and video production program at The Art Institute of Washington, and he was among the group who helped her get the idea off the ground.
"We've done a couple projects, mainly this festival. … It's [other projects] have been happening less and less, I'm working a lot more," said Abedejos, who lives in Alexandria and works as the marketing, digital design and syndication coordinator for entertainment and news programming/broadcasting company MHz Networks.
Weinberg, however, who is a freelance filmmaker and teacher in addition to the festival director, is feeling as much a self-starter as ever.
"I'm also working on a philanthropic music festival, pretty big, somewhere in California … maybe San Francisco," she said. "It's like your normal big music festival, except not, because it's philanthropic."
Weinberg, whose work motivating young area filmmakers could easily brand her as "The Mother of County Filmmaking," is currently looking for sponsors for her next big festival. Those interested can reach out at dani@cliftonfilmfest.com.