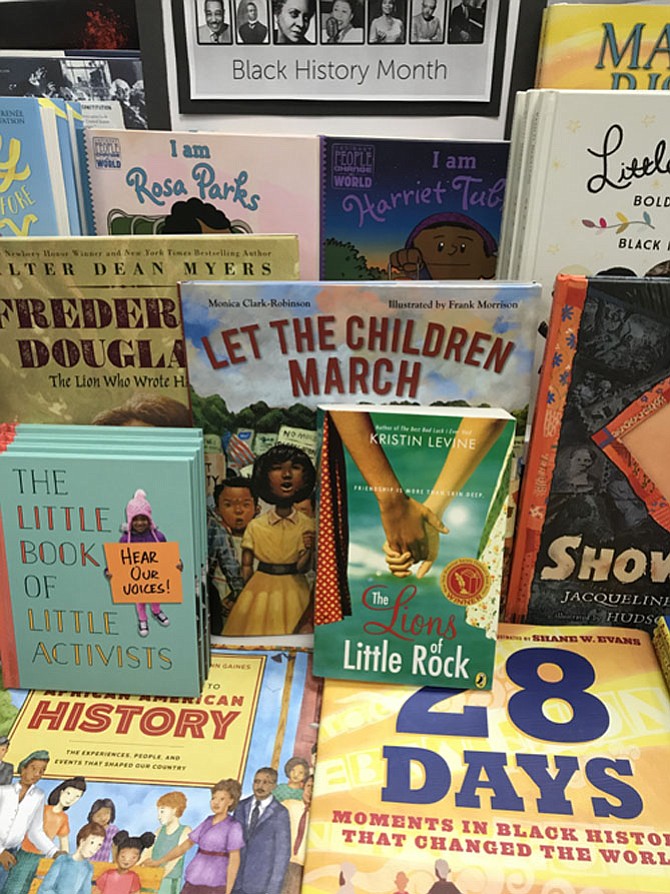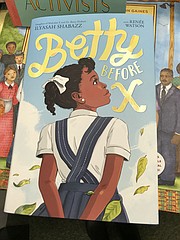 Books
EARLY CHILDHOOD
Paula Young Shelton and Raul Colon, "Child of the Civil Rights Movement"
Andrea Davis Pinkney and Brian Pinkney, "Sit-In: How Your Friends Stood Up by Sitting Down"
Misty Copeland, "Firebird: ballerina Misty Copeland shows a young girl how to dance like the firebird"
Michael S. Bandy, "Granddaddy's turn: a journey to the ballot box"
UPPER ELEMENTARY
Gretchen Woelfle, Alix Delinois, "Mumbet's Declaration of Independence"
Ilyasah Shabazz, Renee Watson, "Betty Before X"
ELEMENTARY
Jabari Asim, "Preaching to the Chickens: the story of young John Lewis"
Sharon M. Draper, "Stella by Starlight"
Mildred D. Taylor, "Roll of Thunder Hear My Cry"
MIDDLE SCHOOL
Larry Dane Brimner, "We Are One: The Story of Bayard Rustin"
Phillip Hoose, "Claudette Colvin: Twice Toward Justice"
Ray Anthony Shepard, "Now or Never! : 54th Massachusetts Infantry's war to end slavery"
Ibi Aanu Zoboi, "American Street"
YOUNG ADULT
Bernard Aquina Doctor, "Malcolm X for Beginners"
Dave Zirin and John Carlos, "The John Carlos Story"
ADULT
Assata Shakur, "Assata: An Autobiography"
Ibram Kendi, "Stamped from the Beginning: The Definitive History of Racist Ideas in America"
Vincent Intondi, "African Americans Against the Bomb: Nuclear Weapons, Colonialism, and the Black Freedom Movement"
Carolyn Quick, "Celebrating our equality: a cookbook with recipes and remembrances from the Howard University"
Jacqueline Woodson, "Another Brooklyn"
"Some of these books are about people who are all too often forgotten — not just in American history, but also black history." — Vincent Intondi, Ph.D., Director, Institute for Race, Justice, and Community Engagement at Montgomery College.
Throughout the year, but more intensely during February, Vincent Intondi, Ph.D., uses literature to teach aspects of African American history that are often overlooked or forgotten.
While slavery and the Civil Rights Movement are two of the most poignant periods of Black history, Intondi, a professor of history and the director of the Institute for Race, Justice, and Community Engagement at Montgomery College, and other educators say reading books about lesser known figures and periods in African American history is one way to paint a complete picture, not only of the history of African Americans, but American history as a whole.
"For example, while we focus on Malcolm X, after spending time with his daughter, Ilyasah, I came to realize just how much his wife Betty did and what she meant to the family. Therefore having a book that focuses on her is important," said Intondi, who is the author of "African Americans Against the Bomb: Nuclear Weapons, Colonialism, and the Black Freedom Movement."
"One could argue that there wouldn't have been a March on Washington were it not for Bayard Rustin, but we don't learn about him because he was gay," continued Intondi. "So part of what's important about these books is not only that they are well written and have amazing illustrations, but because of who they specifically focus on."
Infusing reading with dramatization and memorization, particularly with young children, is a technique that Ana Lado, Ph.D., professor of Education at Marymount University uses in her lessons. "I like to recommend award-winning books or books by award-winning authors," she said. "I also pick books that can be part of a program [and] can be recited, can be dramatized, can be retold."
"Books that I made students memorize [include] 'I, Too, Am American' and 'My People,' both books of poetry by Langston Hughes; 'I Have a Dream,' [speech by Martin Luther King, Jr. published as a book]; 'Lincoln's Gettysburg Address,' [speech by President Abraham Lincoln published as a book], 'Martin's Big Words: The Life of Martin Luther King, Jr.,' 'Tar Beach' and 'Aunt Harriet's Underground Railroad in the Sky,' [both by Faith Ringgold] and 'If a Bus Could Talk, the Story of Rosa Parks' are book that my youngest students can dramatize," said Lado.

"Underground: Finding the Light to Freedom" by Shane W. Evans is another book that Lado encourages students to read. "This is the absolute easiest way to dramatize the Underground Railroad," she said. "I even use it with students with special needs and beginning English learners."
One quality to look for is books about modern day African American heroes who will likely go down in history. When compiling recommend books for African History Month displays, Henrik Sundqvist of the Arlington Public Library said, "We try to pick titles which have been published within the last 5 years."
Among the books Arlington County Libraries is recommending are:
"Firebird: Ballerina Misty Copeland Shows a Young Girl How to Dance Like a Firebird" by Misty Copeland.
One book that offers a historical perspective and deeper understanding of a current issue, says Intond, is "The John Carlos Story" by Dave Zirin and John Carlos. "There is arguably no one better to write about sports, race, and politics than Dave Zirin," he said. "The book is great for a wide range of audiences. If one wants to understand Colin Kaepernick and what is happening today in sports, then they should read this book."
Using such narratives offers a deeper understanding America's past and puts current happenings into perspective. "Students can learn and appreciate those who came before them, sacrificed, fought, put themselves on the line and paid with their freedom and lives for equality," said Intondi. "Students will learn that they are part of the long movement for freedom and they too can change the world."
Intondi notes that the Institute for Race, Justice, and Community Engagement will host Zirin for a discussion of his book on Feb. 26.