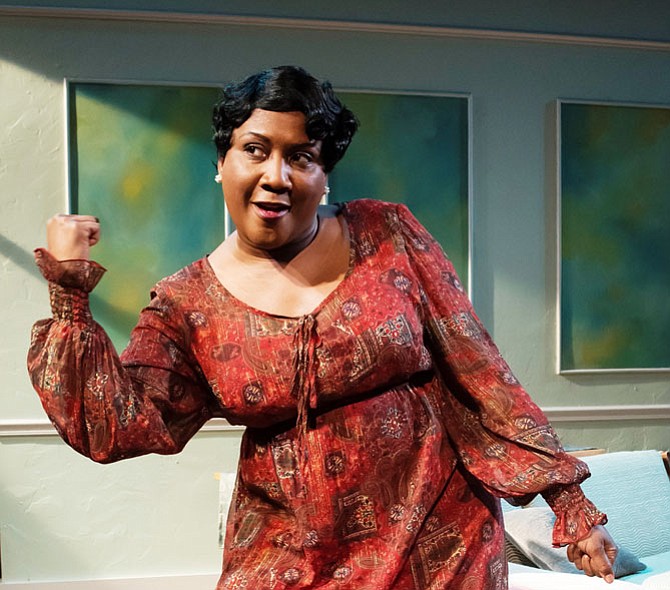 MetroStage in Alexandria is presenting "Resist: A Revolutionary Cabaret," conceived and performed by Roz White, on Saturday and Sunday, Feb 24-25. The show is the first in its Spring Solo Series celebrating work by women, about women, and starring women.
Actor and MetroStage favorite Roz White pays tribute to Alberta Hunter, Sister Rosetta Tharpe, Abbey Lincoln, Roberta Flack, and Nina Simone, depicting their hardships and challenges, and their revolutionary influence on music and pop culture. Empowered by their determination, talent and artistry, each has a story to tell and music to be celebrated. The music director and piano accompanist is Michael Hill.
According to Carolyn Griffin, producing artistic director at MetroStage, "'Resist: A Revolutionary Cabaret' is the inspiration of Roz White, one of MetroStage's favorite artists. She has performed in so many of our productions playing singers like Billie Holliday, Pearl Bailey, Alberta Hunter and so many more that it only seems right that Roz would devise a show featuring five influential revolutionary female performing artists. From Sister Rosetta Tharpe to Alberta Hunter to Nina Simone and so many others, these women have contributed so much and influenced so many artists that followed."
Griffin added that MetroStage has always been committed to diversity in the stories it tells — from the stage as well as diversity in casting — and has always offered a production in February especially appropriate for Black History Month. "So, a musical presentation celebrating the influence and power of these African American vocal artists seems like it is a perfect fit," she said. "We are proud to showcase Roz White and her incredible range of talent on our stage and give her an opportunity to pay tribute to these African American musical icons."
According to White, "I have been crafting solo performance pieces since my senior year at Howard University as a musical theatre major. My mentor, Mike Malone, co-founder of The Duke Ellington School of the Arts, was the coordinator of the musical theatre program at Howard, and assigned a project of creating a one-person show to the seniors in my graduating class. It was then, that I discovered my love and admiration for strong women in the entertainment industry," she said.
"Fast forward 24 years, and I have performed cabaret pieces all over the country featuring the stories of powerful and influential female artists. 'Resist' is a piece I recently created in tribute to five women I have admired and studied for years — particularly because their voices don't fit the cookie-cutter sex symbol mold of the music industry," she said.
"Alberta Hunter inspires me because she was a self-made, outspoken trailblazer, who called her own shots as a songwriter, and was able to revive her career when she was well into her 80s. Abbey Lincoln fought against being objectified for her svelte figure and made the industry recognize her powerful message of self-awareness. Sister Rosetta Tharpe took her gospel guitar and vocals into places that were taboo for a gospel singer, and put her signature stamp on what we know as rock-n-roll. Roberta Flack (also a Howard Alum) was a voice of calm, and a soothing presence during the tumultuous '60s, and established herself as a prolific songstress, penning classic tunes that are still in radio rotation today. And Nina Simone was a self-proclaimed protest singer ... admonishing the responsible artist to reflect the times in which she lives, with dignity and excellence," she said.
White has been seen in many of MetroStage's productions and world premieres over the past 15 years beginning with "Three Sistahs" in 2002, and including "Blackberry Daze," "Gin Game," "Black Pearl Sings," "Shake Loose," "Uprising," "Bessie's Blues," "Cool Papa's Party," and others.
The other two shows in the Spring Solo Series include "George … Don't Do That," the music and magic of British comedienne Joyce Grenfell, which is devised and performed by British actor Catherine Flye, on March 8-25. Flye starred in the holiday show, "Christmas at the Old Bull and Bush." Next up is "I Did It My Way in Yiddish" (In English), written and performed by Canadian/New Zealand Jewish comic actor, musician and writer Deb Filler, on April 13-29.
And in addition to the Spring Solo Series, there will be a series of free play readings by a group of women playwrights, the Pipeline Playwrights, on Mondays, March 26, April 16 and April 30. This is their second annual visit to MetroStage.
Performances for "Resist: A Revolutionary Cabaret" are Saturday, Feb 24 at 3 p.m. and 8 p.m.; and Sunday, Feb. 25 at 3 p.m. All tickets are $45. The MetroStage venue is located at 1201 N. Royal Street, Alexandria. Call 703-548-9044 for more information or to order. Visit www.metrostage.org.