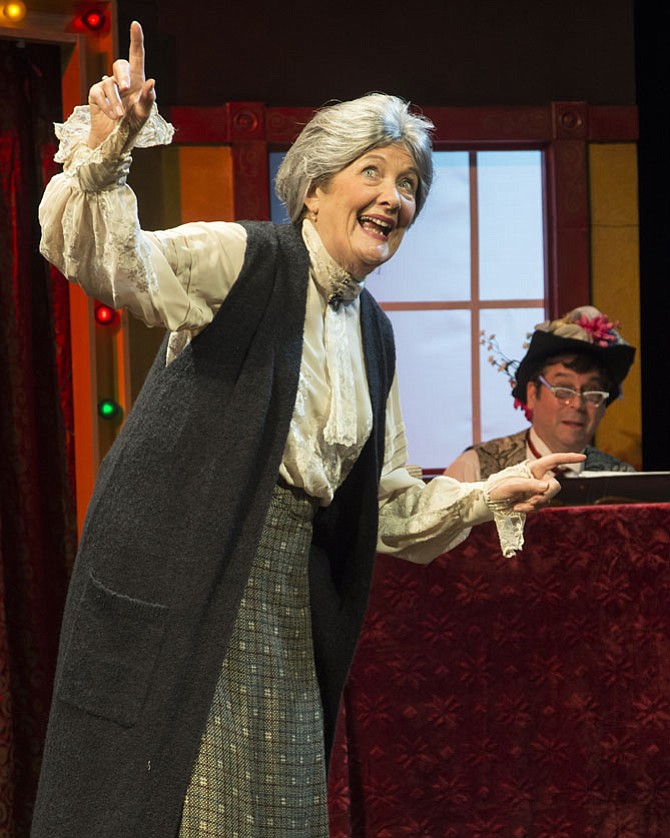 The second show in MetroStage's Spring Solo Series, "George…Don't Do That!," will run March 8-25 in Alexandria. The story chronicles the music and magic of beloved British comedienne Joyce Grenfell, which is devised and performed by British actor Catherine Flye. The Spring Solo Series celebrates work by women, about women, and starring women.
If her name sounds familiar, Flye starred in the holiday show, "Christmas at the Old Bull and Bush." She has been performing this tribute to Grenfell throughout the British Isles since 2003 (also the U.S. and Africa). She performs this MetroStage show with Music Director and Pianist Joe Walsh and Michael Tolaydo as the Narrator.
According to Carolyn Griffin, producing artistic director at MetroStage: "Catherine Flye or Catie to her friends and colleagues is a beloved actor in the Washington theatre community known for the award-winning plays and musicals produced by her own Interact Theatre Company, as well as iconic roles in all the major theatres in the area and beyond, including Shakespeare Theatre, Arena Stage and The Kennedy Center. She was first seen on our stage here at MetroStage in 2002 when she was in 'Sea Marks' with Michael Tolaydo, another acclaimed actor who will be joining her in 'George…Don't Do That!' in the role of the Narrator. Catie was most recently seen over the holidays in our wildly popular 'Christmas at the Old Bull and Bush,' which she devised, directed and where she performed roles that included 'The Nativity Play,' a popular sketch from Joyce Grenfell, and a priceless song called 'Nobody Loves a Fairy (over 40).'"
She continued: "Catie is fearless on stage and was influenced as child growing up in England by Joyce Grenfell, a beloved British comedienne. Catie has been touring this show based on Joyce's work throughout the UK and beyond since 2003. So, when I decided to put together a Spring Solo Series this seemed a perfect choice — spotlighting Catie, Joyce, and reuniting her with her collaborators, Joe and Michael. The material and music are both comic and poignant and covers a range of topics that will entertain, enthrall and maybe once again make Joyce Grenfell a household name."
According to Flye: "Joyce Grenfell was a household name in my family as I was growing up in Northampton, England, and as a small child I would act out all the characters in the famous nursery school sketches. It was my favorite 'make believe' game, which I played for hours on end," she said. "The beloved entertainer became a source of inspiration to me and her 'people watching' philosophy part and parcel of my daily life. Her unique style of comedy was never nasty but endearing, truthful and often poignant."
She continued: "Following Joyce's death, I wanted to pay tribute to this special lady. At that time, I was living and working in the States and happened to meet Lord Julian Grenfell, a relation of Joyce's husband Reggie, who was working at the World Bank in Washington. Lord Grenfell helped me with research and spoke the narration. Following that first performance at the British Embassy in Washington, D.C., I have performed my tribute 'George…Don't Do That!' many times in America, East Africa and across the United Kingdom, including performances at the Jermyn Theatre in London's West End. Keeping Joyce's legacy alive is important to me personally — so it's a great joy to be able to bring her work back to life again at MetroStage."
Grenfell was born in London on Feb. 10, 1910. She was three-quarters American — her mother Nora was one of the famous Langhorne sisters of Richmond, Va., and her Aunt Nancy Astor married an English Lord and became the first woman Member of Parliament. Her first stage appearance was in 1939 in the West End using her own material, and she went on to tour the world with her solo performances including an acclaimed run at the Bijou Theatre on Broadway with her one-woman show, "Joyce Grenfell Requests the Pleasure." For her songs, her main collaborator was Richard Addinsell who set more than 50 of her lyrics to music and who is widely known as the composer of "The Warsaw Concerto." His association with her lasted 30 years. Joyce died on Nov. 30, 1979.
Performances for "George…Don't Do That!" are March 8-25 at MetroStage. Show times are Thursdays at 8 p.m.; Fridays at 8 p.m.; Saturdays at 3 p.m. and 8 p.m.; and Sundays at 3 p.m. and 7 p.m. All tickets are $45. The MetroStage venue is located at 1201 N. Royal Street, Alexandria. Call 703-548-9044 for more information or to order. Visit www.metrostage.org.