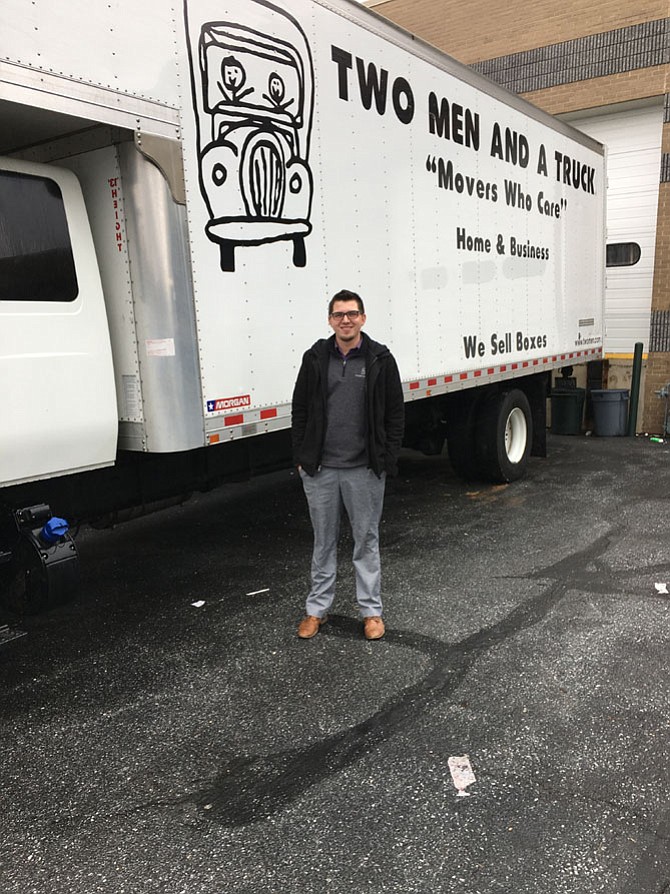 Two Men and a Truck, a moving and hauling service specializing in exceeding customer expectations, has new owners for its Potomac franchise as of early this year.
Mike Lacey and Josh Payne, who also own a Two Men and a Truck location in Ohio, are open and ready for business, according to Payne, who said they purchased the franchise already established in this area.
Payne said they are a full-service mover, able to do both local and nationwide moves, residential and commercial.
"We are a community focused organization," he said. "Our number one goal is satisfaction."
To that end, they chose Jared Button, their operations manager of two years in Ohio, to manage the Potomac location as general manager.
Button is already working at the company's office near Montgomery County Airpark in Gaithersburg. He started with the company, working with Lacey and Payne as a driver two years ago. Bringing the experience of "hundreds and hundreds of moves" to his new position.
He said he loves the business, especially meeting new people every day.
"No day is the same," he said. "I love that."
Asked about his experiences as a mover he said the most unusual time was when they moved a house full of furniture and in the dining room there were stuffed animal heads hanging on the walls — heads to be packed and moved.
"The person's grandfather was a hunter," he said. "There was a zebra, a couple of gazelles … mostly African animals, and a buffalo head. It was huge."
Back to business, Button speaks enthusiastically of Two Men and a Truck.
"Customers are our business," he said. "We offer fully trained gentlemen, they are full time staff, who pad and stretch wrap [everything] to minimize the risk of scratches and damage."
Though he can do free in-home or business estimates on jobs, Button said most are done over the phone.
"We try to gather as much information as we can, so the estimate will be accurate," he said. "We understand [that moving day] is a stressful time for customers and we don't want anyone to think we are trying to get a dollar from them or that we lied to them."
The company even has the Grandma Rule as one of its core values: "To treat everyone the way you want your Grandma treated."
Other core values, from the company website, include: integrity, care, give back to the community, be your best and have fun, and inclusion, "welcoming people from all backgrounds in the workplace and the community."
Ironically, Two Men and a truck was started by one woman, according to Button.
Mary Ellen Sheet's two sons Brig and Jon Sorber, had a pickup truck and, in the summer during school holidays, would do moving and hauling for neighbors and friends. When they left for college, they discontinued their service.
But people kept calling for the Two Men and a Truck service, so Sheets asked them if it was OK if she bought a truck, used their name and continued the business. She is also responsible for the company's logo. She drew the original picture on the back of the napkin.
That was in 1985.
"It's a cool story," Button said. "Now there are almost 400 franchises and we are international with franchises in Canada, the UK [United Kingdom] and Ireland."
Button said he expects Two Men and a Truck to be successful in the Potomac franchise despite a lot of competition.
"There are two big factors," he said. "We take pride in our work and offer competitive pricing."
The new location has plans to hire roughly 10-15 employees over the next few months and fill the position of an in-house service person.
For more information, visit: twomenandatruck.com.