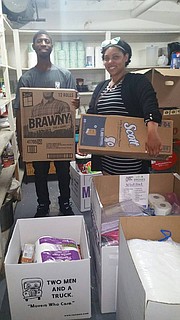 Despite the surge in parenting advice and information resources, some of the most spirit-breaking defeats happen when plans go astray, leaving parents suddenly without the means to meet even the most basic needs of their children. Parents in these situations count on community support.
And for a considerable number of moms, this kind of support comes from the national moving company Two Men and a Truck. Every spring, in the weeks leading up to Mother's Day, Two Men and a Truck locations all over the country — including the three Northern Virginia franchises — hold their Movers for Moms campaigns. Through this charity drive, they collect donations for mothers in shelters.
"During this year's Moving for Moms campaign, we collected around 1,200 donations." said Gabby Bonilla, marketing coordinator for Two Men and a Truck. "It was an overall really successful charity drive that ended May 4, so we were able to drop off all the donated items to the shelters we partnered with, all in time for Mother's Day. They were thrilled because this isn't the time of year when they get a lot of donations. We were happy to provide things so that moms could have a decent Mother's Day."
Bonilla organized Movers for Moms this year on behalf of all three Northern Virginia locations of Two Men and a Truck — in Arlington, Herndon and Springfield. A national franchise, the business has had a local presence since the Springfield location opened in 2013. The local team held its first Movers for Moms campaign in 2014, so it didn't take the local franchise long to start conducting nonprofit work alongside the growing business.
"One of my favorite quotes is Ronald Reagan's line, 'We can't help everyone, but everyone can help someone,'" Bonilla said. "This is my second year hosting the drive in this area and what I love about it, besides making a difference in the community and helping those in need, is getting to meet more people and businesses in the Northern Virginia area with my team. ​Last year, our team collected a little over 1,000 donations. Our goal this year was to surpass that, and next year, even more so."
As part of this movement to honor mothers, Two Men and a Truck partners with businesses that then become designated donation drop-off locations. This year, there were 19 of these spots around the area.
On the other side of the equation, Two Men and a Truck also partners with local homeless shelters, where the donations will ultimately go. For the campaign, they ask for everyday items — the things so many people take for granted.
"With Northern Virginia being such a high-income metropolitan area, our community is able to help by donating items that we use every day," she said. "Something as little as canned food, or toiletries, can make a huge difference in someone else's world. This year we got a lot of baby wipes. We knew the shelters we partnered with needed a lot of baby care items and perishable food, so we specified this need to the community."
The shelters they worked with this year are run by FACETS and Bridges to Independence, both non-profit organizations devoted combating poverty and assisting those in the throes of it.
"Sullivan House provides individuals and families with a safe, supportive place to stay," said Jeanette Norton, director of development for Bridges to Independence, said. "Sullivan House is Arlington County's largest emergency shelter for families experiencing homelessness. The shelter, with 10 one- and two-bedroom apartments, can accommodate up to approximately 14 families at a time. The median length of stay is three months. While at Sullivan House, families not only receive the support they need during a time of crisis, but the tools and resources that will propel them toward a better future."
According to Bridges to Independence, homelessness is often an "episodic" plight. The staff and volunteers work hard to address the root of the problem so that when the people they directly help move away from homelessness, it will remain in the rearview mirror. The whole process starts with meeting people's basic needs, so the many donations from Two Men and a Truck they welcomed this month were significant.
"The path from homelessness to independence is not easy, and requires ongoing support and assistance," Norton said. "This is Bridges' third year as a beneficiary of the Movers for Moms campaign. We're very grateful to Two Men and a Truck for their continued support of our mission and our community's most vulnerable families. Last year, Sullivan House provided a safe haven for 40 families, and we've already surpassed that number this year. Donations like those given through the Movers for Moms campaign are critical to supporting our mission."
This was the first year that Two Men and a Truck contributed to FACETS. While this added partnership was indeed a success, Bonilla sights are set on an even more impactful drive next year.
"This year went great, and I know it'll continue to get better every year we do this," Bonilla said. "Now that we've wrapped this year's Movers for Moms, I'm hoping to affect more mothers in shelters, and I'm hoping to establish more donation locations. We'd also like to host more events next year, similar to one we did this year with the Boys Scouts of the Capital Area. I'd like to plan more of these events because it's a good way to get a lot of the community behind the cause."
It was one mother's idea that launched Two Men and a Truck as a business more than 10 years ago, so it's only fitting that the company would pour so much heart into a nationwide initiative for moms.
"Two Men and a Truck was started by a mom, Mary Ellen Sheets, whose sons would assist the local neighbors with their moving needs in a pickup truck," Bonilla said. "The first profit she made, she donated to a local women's shelter. Even though it's called Two Men and a Truck, it's mainly run by women, who hold management and ownership titles within the company. It's symbolic, really, because none of us would be here without our moms."