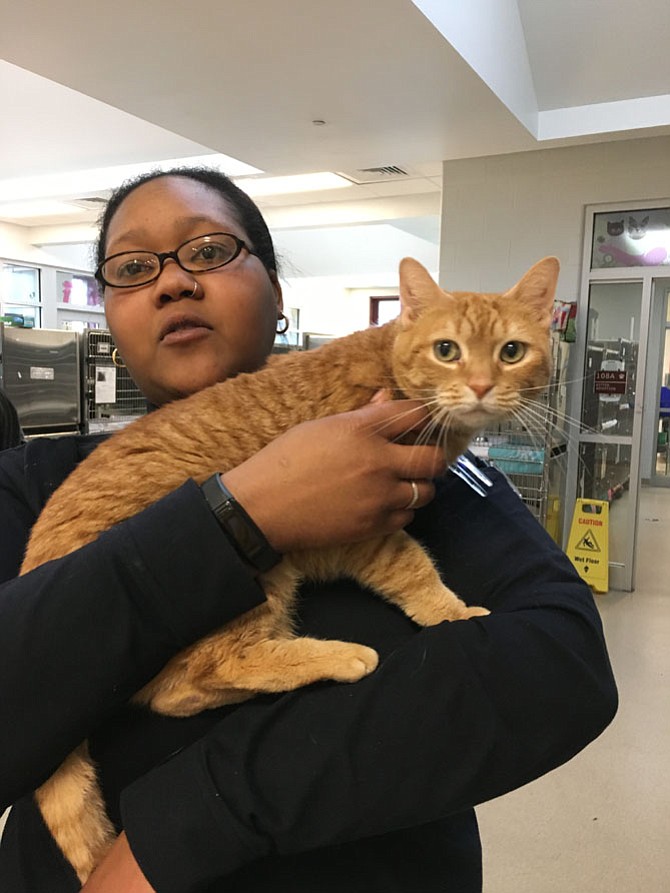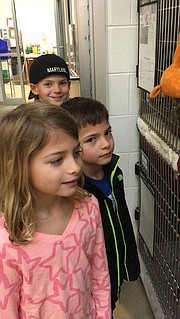 Forget the lions and tigers and bears, say "Oh my" to dogs and cats, bunny rabbits, guinea pigs, birds, turtles and many other animals. Even tarantulas.
They have all been or are now available for adoption at the Montgomery County Animal Services and Adoption Center on Muncaster Mill Road in Gaithersburg.
The center is an open admissions center, accepting any animal in need of rescue or adoption, even livestock, according to Brittany Gabourel, interim adoptions manager.
"We will accept everything," she said.
Even those tarantulas, which she said, came to the center after someone tried to ship them and they were intercepted.
"It was a lot of tarantulas, about 20," Gabourel said. "We sent some to the San Diego Zoo and some to Oklahoma."
Recently, the Animal Services and Adoption Center partnered with Friends of Montgomery County Animals to offer two weeks with adoption fees waived. The goal was to find homes for 100 animals.
As of Saturday afternoon, a day before the offer expired, Gabourel said 67 of the 100 animals had been adopted. The breakdown included one chicken, one rooster, 34 cats, 26 dogs, three guinea pigs, two rabbits and one hamster.
"It was absolutely [a success]," Gabourel said. "Hopefully we will be able to do this again with Friends of Montgomery Animals."
Gabourel said the center gets animals from a variety of venues including owner surrender, stray pets and confiscation when reports of cruelty and neglect have been investigated and removal is deemed necessary.
She also said the shelter tries to do same day adoptions meaning a potential pet owner can come to the shelter, select a pet, complete the necessary paperwork and an interview with an adoption counselor and leave with a new family member.
Pets are good for people, she said.
"Absolutely, pets are therapy," she said. "They give a lot more than we give them. We give them the basics, shelter, food, care, but the return on those basic things is priceless."
When considering adopting a pet, Gabourel recommends people research the animal they want to adopt.
"A lot of people don't realize the work and responsibility [of pet ownership] or the longevity [of some animals]," she said.
An example of longevity is the 19-year-old cat, "Girly" and her cage mate, "Kizzy," 16, now at the center. Both are available for adoption.
The Montgomery County Animal Services and Adoption Center is operated by the Department of Police, Animal Services Division.
Trained staff provide animals with daily care, mental and physical enrichment, health and wellness checks, and more.

Animal Services Officers are on-call seven days a week to investigate citizen complaints and respond to animal emergencies 24 hours a day. These calls include animal-related matters such as: animal abuse and neglect; law enforcement; calls regarding stray, rabid, or aggressive animals; and sick or injured wildlife.
For more information visit: montgomerycountymd.gov.