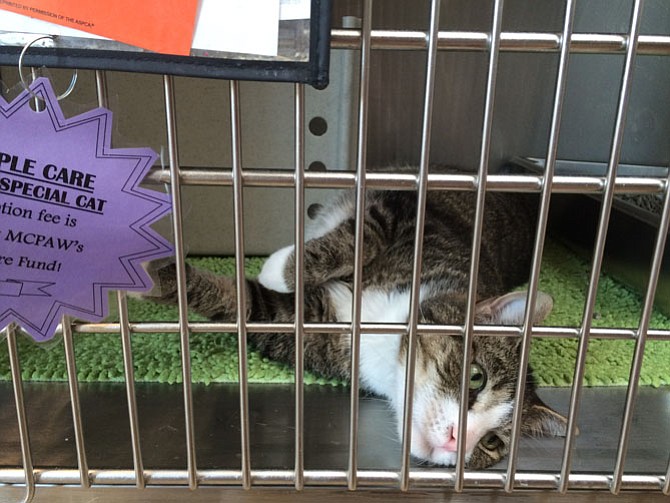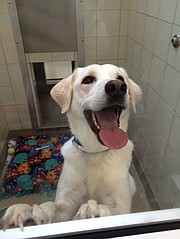 If interested in adding a new pet to the family or if simply just like animals, consider making the drive to Derwood to visit the Montgomery County Animal Services and Adoption Center.
If not a dog or cat person, fear not — there are plenty of other animals to choose from. Birds, ferrets, hamsters, guinea pigs, rabbits, lizards, iguanas, fish, and even livestock are just some of the many other species that reside in the adoption center, which currently holds more than 350 animals.
While many of these animals were strays, many of them were surrendered by their own owners. As far as animal shelters go, the Montgomery County Animal Services and Adoption Center is state of the art. The multi-million dollar facility is a 49,160-square-foot, eco-friendly building. There are four corridors in which people can visit, and sometimes even feed, each dog, cat, reptile, bird, fish, or rodent currently residing in the shelter. Out back, there is an outdoor area with a walking trail for staff and volunteers to walk the animals, as well as a barn for the livestock residing at the shelter.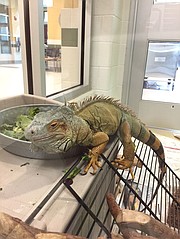 The facility employs animal care professionals including volunteers, animal trainers, veterinarians, and adoption counselors who can assist potential owners with the process of bringing a rescue animal home.
A portion of the funding for the facility and its programs comes from its official county partner, McPaw, a Montgomery County non-profit that has two primary goals: to fund the facilities and the programs of the adoption center, and to develop programs aimed to stop animals from coming into the shelter in the first place.
"If we did our job right, the shelter would be empty — but you know that will never happen," said Allan Cohen, chairman of McPaw. To combat the issue of pet overpopulation, McPaw is coordinating a program called Spay it Forward that aims to provide free spaying and neutering services to Montgomery County. In the first six months of 2015, McPaw has been in contact with 98 veterinary clinics and helped spay or neuter 187 feral cats to prevent an estimated 798 homeless, feral kittens from being born.
To support McPaw and the adoption center, visit http://mcpaw.org to donate or browse volunteering opportunities. Despite the modern facilities and dedicated staff at the center, these diverse and loving animals are in need of a home. On the wall of the adoption center is this quote: "To the world, you are just another rescue pet owner; to a rescue pet, you are the world."
The Montgomery County Animal Services and Adoption Center is located at 7315 Muncaster Mill Rd. Derwood, MD 20855. To browse available animals online, visit http://montgomerycountymd.gov/animalservices/.