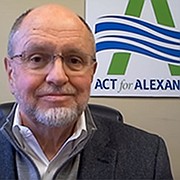 Giving in Alexandria is a two-step process, said John Porter. First, find where your passions lie. Second, ask how you can have the most impact and make the most difference.
Porter, the recently-retired president and chief executive officer of ACT for Alexandria, the city's community foundation, speaks from authority. He was already involved with ACT before retiring in 2009 from a 40-year career with the Alexandria City Public Schools (ACPS). He was a founding board member of ACT and involved since the beginning discussions in 2004, then accepted the president/CEO position five years later. Retirement would have to wait.
His job gave him a holistic view of the city's needs, nonprofit missions and citizen philanthropists. Community Lodgings, he said, "fills a very important need" in Alexandria's Arlandria/Chirilagua communities. Porter noticed that need during his ACPS days, and he credited Community Lodgings for steadily addressing housing, education, safety, security and family support over the last 30 years.
Those wraparound services are critical. "It's not usually one issue that affects a family, although there may be a primary issue, like finding affordable housing," Porter said. "Organizations that delve into a variety of different areas to help families have the opportunity to have a much more lasting and broader impact. When you provide those multiple touches for families you have more of an impact in making some dramatic, lasting change."
Porter is adamant that early childhood intervention is critical in assuring all children have an equal chance at success. It's crucial, he said, that children have place to go to after school where they can interact with others, study, and feel safe. He praised Community Lodgings' after school program, and their staff and volunteers, as "people who care and want to help and are concerned about the kids they work with."
Caring is especially important, he added, if parents lack the language or skill set to assist their children with school work. The city's immigrant families must provide for their families, learn the area's customs and culture, and figure out the city's support services, which are often presented in English and without the help of translators. Community Lodgings' bilingual staff often assists these families in navigating through those challenges.
In Porter's view, Community Lodgings' key to its longevity has been its people, community support, and delivering the goods. "Success breeds success," he said. "Community Lodgings has followed through, made a difference and continues to make a difference."
As for finding your passion and looking for impact, Porter gives Community Lodgings his seal of approval. "Community Lodgings is one of those organizations that fills a variety of those resource needs for youth and families in our community," he said. "If you care about helping families new to our country, people in need, housing, family or educational support, consider Community Lodgings."