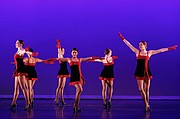 Where and When
Virginia Dance Coalition presents DanceFest 2018 at George Mason University (GMU), 4400 University Drive, Fairfax, on Jan. 19 and 21, 2018.
Gala Performance at GMU Harris Theatre on Jan. 19, 2018 at 7:30 p.m. Tickets $25.

Workshops including master classes and seminars at GMU DeLaski Performing Arts Building on Jan. 21, 2018 from 9 a.m. to 7:30 p.m. Tickets: $40 for observer tickets for teachers and parents. Full two-day packages begin at $125 for college students with ID, to $140 for VADC member to $170.

Showcase performance of emerging talent at the GMU Harris Theatre on Jan. 21, 2018 at 2:30 p.m. Tickets $20.

For early bird rates, tickets, and registration go to http://www.virgin...">www.virginiadance... or call 703-409-7988
Two days of juried dance performances from a wide range of local dance companies along with master classes and workshops taught by world renowned instructors, are coming to Northern Virginia. It is the Virginia Dance Coalition's (VADC) Dancefest 2018 at various George Mason University venues.
"We at the VADC strive to present the vast array of talent from different dance genres, and expose dancers to as much variety as possible," said Marilyn York, VADC President, and Director of Dancin' Unlimited Jazz Dance Company.
With a membership of about 40 dance companies, individual choreographers and dancers, "VADC works together to help each other," said York. "We are not competing against each other, but rather we're appreciating each other. Everyone has different styles of dance; even within genres. We challenge each other to reach higher levels of quality through this work, but don't get caught up in the competitive spiral."
VADC membership ranges from professional modern dance companies, to ethnic dance groups, and pre-professional ballet groups. Dance genres represented in the VADC include a variety of tap, jazz, theatrical dance and hip hop.
At Dancefest 2018, "the audience can expect to see an amazing demonstration of the colorful variety of dance genres represented in Virginia. The gala is a show that is in its essence entertainment, but also serves as a window into types of dance not normally seen together," said Caroline Frankil Warren, choreographer and former VADC president.
Demographics of Fairfax County are increasingly diverse. "Dancefest audiences and dancers alike will be exposed to companies and dance styles that they may not normally see and that they may want to continue to see," added Warren.
Dancefest 2018 is a partnership with the George Mason University (GMU) School of Dance. Susan Shields, the School of Dance director will be leading a Dancefest Master Class titled "Careers in Dance."
This year the VADC will award two scholarships for talented dancers from a member company heading toward a professional career, or a college dance program. The scholarships are funded by the VADC and the Arts Council of Fairfax County. The scholarship winners will be announced at the Dancefest Gala performance held the evening of Jan. 19, 2018.
Inviting the public, Warren indicated that "the audience can expect to see an amazing demonstration of the colorful variety of dance styles that will serve as a welcoming window into types of dance not often seen together."