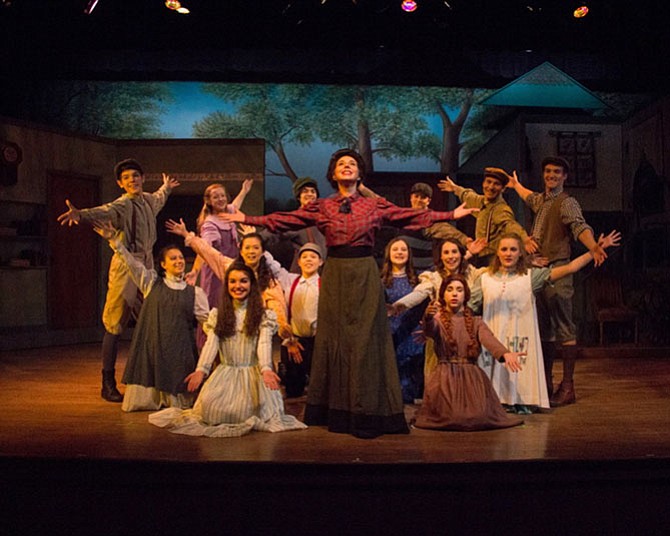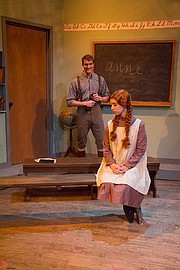 The Little Theatre of Alexandria (LTA) is presenting the musical, "Anne of Green Gables," through Feb. 3. Based on the classic novel by L.M. Montgomery, this musical takes place at the turn of the century, when a family decides to adopt an orphan boy for help on their farm, Green Gables. The "boy" turns out to be Anne Shirley, who quickly charms her new home and community with her fun spirit and comical adventures.
Director Mike Baker Jr. said the LTA Board was looking for a family show, so he suggested the original Broadway version of this musical. "In addition to one of the most popular mini-series on PBS, Lucy Maud Montgomery's story was enjoying a popular rebirth through the Netflix series, 'Anne with an e,'" he said. "I knew it would be a natural for LTA audiences young and old. Plus, the original 1965 version had not been done in the D.C. area for a very long time, if at all."
He decided to direct the show because it spoke to him on many levels. "Contemporary themes like child neglect, adoption, romance, friendship, and life in a small town, were all rolled into this wholesome, imaginative, breezy tale of a young orphan girl who rose from destitution to happiness in the farm country entirely by virtue of her pluck and personality. I felt it could not miss," he said. The show is essentially a 423-page novel in a little over two hours, he added.
He said some of the challenges were a horse, carriage, and endless theatrical drops. "But with a little imagination and mixed-media, this musically lush and youthfully energetic musical has reached fruition at LTA," he said. "It also features dance within dance, mixed vocal and dialogue sections, 10 different settings, a dozen legit voice parts, and a half-century of musical traditions. It was quite an undertaking."
In his first show with LTA, Aaron Eckloff is playing the role of Tommy Sloane, the brother of Charlie. "He is somewhat of a trouble-maker, who likes to occasionally torment his classmates and even his teacher," he said. "He gets to do some mischievous things, one of which involves a slingshot wink wink, which is very fun to do."
He said one of the challenges is the physical element of the show. "Our choreographer, Ms. Cristina, does not cut corners when it comes to dancing, and she prefers a more traditional and intensive style of dance, which looks spectacular, but has taken some getting used to and was a significant hurdle for me to get over," he said.
He added: "I hope that audiences will be impressed by the dance numbers, the singing, the humor, and overall just enjoy a story about a girl who is just a little different than everyone else."
Michelle Ballard is playing the role of Marilla, who shares her family's farm Green Gables with her brother Matthew. "Marilla, a stubborn woman with a strong moral compass, suffers no fools and sees no reason for frivolity in life. In her late 50s, she missed an early chance at romance and now 'dedicates' herself to the welfare of her brother and their beloved farm," said Ballard, who has been acting since high school.
She says: "Marilla faces the task of motherhood late in her life, when habits are set and rules are hard to change. She's plunged into her new role with little experience and must open her mind to the daunting task of guiding Anne, her equally-stubborn and precocious new charge. Exploring her emotional upheaval has been fascinating."
Tony Gilbert plays the role of Matthew Cuthbert, a farmer who lives with his sister on their farm, Green Gables. "He is in his 60s and is slowly losing his ability to work the farm due to his age and a heart condition. A gentle man, he is very shy around women he is not well acquainted with. When he meets Anne he is taken by her from the moment they meet. When I started studying him, I liked him more each time I met him," he said.
He added: "Well, like Matthew, I am also in my 60s and not being a dancer, I find it more difficult to hop around than 20 years ago. This is also a much different role than I have been blessed with in my past, a lovable (I hope) old boy with a huge heart of gold and a sense of humor," he said. "One of the easiest parts of this role has been that Cassie Cope has made my job of adoring 'my little girl, Anne' effortless." Gilbert formerly played Judge Wilson in LTA's production of "To Kill a Mockingbird."
Janet Cooper is playing a few different roles but the biggest one is a Blewett child. "The Blewett children live with their seven other siblings, and their mother who doesn't feed them a lot, and acts very poorly and cruel towards them. The poor Blewett children are quite frightened of their mother; they do what she tells them to, because they know if they don't, they'll suffer the consequences," she said.
This being her first show, she said some of my challenges were learning what scene she was in at what time, knowing who exactly she was playing, and learning all the songs and dances.
As far as audience takeaways, she said: "I hope they'll take away knowing the fact that sometimes in life you have to take risks, and sometimes even when something seems like it's really bad, it could turn out to be really good."
The Little Theatre of Alexandria is presenting the musical, "Anne of Green Gables," through Feb. 3. Show times areWednesday through Saturdays at 8 p.m.; Sunday matinees at 3 p.m. Tickets are $27 to $32. The venue is located at 600 Wolfe St., Alexandria. Call the box office at 703-683-0496. Visit www.thelittletheatre.com.