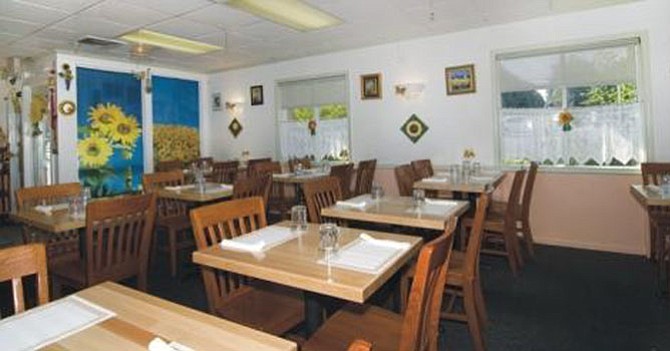 An old-timer in Vienna, this all-veg eatery continues to draw in big lunchtime crowds. And it is easy to understand why: the prices are reasonable; the portions are immense; and the flavors combine well. Even if someone craves a burger — there's a McDonald's nearby — the food is refreshingly good, and minus fatty meats and probably loads of calories.
On a recent day, the small dining area was packed, and even a few folks dropped in for take-out. So what's the menu offer? It is actually rather extensive, with the obvious — and lengthy — selection of appetizers and soups, to salads, noodles, sandwiches (yes, even a veggie burger), sushi, and entrées that are composed of assorted vegetable combinations plus soy protein, and special rice dishes that may contain either vegetables, fruit, or both. Patrons can even order up "meaty" fare, such as the fried "chicken" appetizer or the "shrimp" garden sizzling rice. In such cases, so no one is fooled, the "meat" source is really soy protein, dressed up to take on a meaty characteristic.
Faced with such an appealing menu, one wonders: where to begin? Tempting treats such as the steamed or fried dumplings, or perhaps the spring rolls crammed with veggies might be good beginnings. Of course, a cup of miso soup or their take on the Thai tom yum goong soup could set the meal of right. The latter is chock full of mushrooms, organic tofu, bamboo shoots, and now peas.
For noodle fanciers, the selection is rather interesting, with choices that are Chinese, Japanese, Indian or even Italian sourced and seasoned. Consider the Bolognese sun-dried tomato combo over penne pasta or rice. And sushi or rice entrées include many tasty options. For sandwich lovers, why not just turn to the orange "chicken" or avocado-jicama sandwich — the menu notes that all sandwiches are served on ciabatta bread and are garnished with lettuce and more.
The restaurant also offers a special lunch section on its menu, and there, fans of Chinese flavors, can order the organic ma po tofu entrée. This is a Sichuan classic — a bit fiery in Chinese restaurants. The traditional dish contains cubed tofu and ground pork, which here is a meat lookalike, and it is chock full of Sichuan peppercorns, which add the fire to the dish. This version is a good vegetarian option for fans of ma po tofu, and the fiery heat is tempered down.
To wrap up the meal, try to include a dessert. The list is short, and does include a chocolate cake, but one of the more unusual options is this: an avocado and lemon pie — the pale green slice comes drizzled in a sweetish lemon sauce. Unique!
Sunflower Vegetarian Restaurant (Vienna), 2531 Chain Bridge Road, Vienna. Phone: 703-319-3888. Open daily for lunch and dinner. Note: There is a Falls Church location as well.