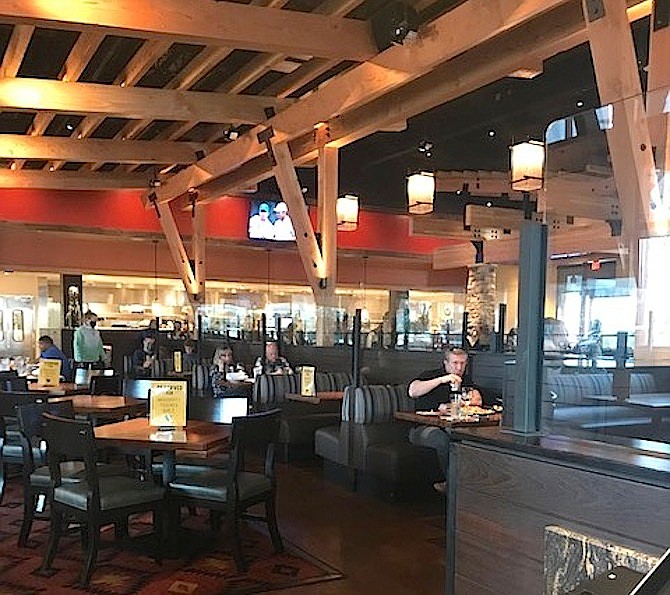 A fake paw print on tables and at least one photo of a cheerful Retriever will beckon all the dog lovers in the Chantilly area. That destination? Lazy Dog restaurant, which on a recent Saturday night was brimming with folks eating, drinking, and being ultra-merry.
What is the big draw about this robust eatery? For one, it offers outdoor patio seating and indoor seating in a huge, barn-like setting that looks like it would fit well on a ranch. Tables, set apart because of the pandemic, are still numerous enough to pack the place.
But besides the overt merriness of Lazy Dog, the real pull is the extensive menu—and there is even a dog menu, believe it or not. The choices are so extensive that scanning through all the offerings can be mind-blowing. Listed as "lunch," though these are available apparently all day long, are such starters as Goat Cheese and Pepper Jelly or Jumbo Coconut Shrimp, hand-breaded and fried and served with sesame slaw.
Small plates, which likely serve as sides for meat or seafood entrées, include Bacon Candy (yum), Sweet Potato Tots, or Crispy Deviled Eggs that are lightly fried and sprinkled with smoked paprika, plus more.
Then onto the main meal. Diners can start with a bowl of Chicken Tortilla Soup that is loaded with shredded cheddar cheese and fried tortilla strips. Oddly, that is the only soup choice, but the menu offers so much more that that makes it OK. Assorted salads include Cobb salad; Tex-Mex with chicken, black beans, avocado, and BBQ sauce; and Seared Ahi Tuna, with greens and veggies, plus other salad choices.
Two other menu sections pre-entrées include Noodles, featuring Thai Noodles with shrimp and tofu; Fettuccine Alfredo; and Ham+Broccoli Mac N Cheese. The other is Bowls, basically Asian-inspired ways to spark steamed rice with a choice of meat and veggie toppings.
On to the main deal: Sandwiches, with a choice of sides, include House Club or Grilled 5 Cheeses on sour dough toast, plus a choice of sides. Then the Burgers: outstanding is the BBQ Ranch burger, with smoked bacon and cheddar cheese with a chipotle ranch dressing—the choice of sides include yummy onion rings. Another must-have is the Black and Blue burger with blue cheese and smoked bacon.
Meat entrées include five chicken dishes, such as chicken pot pie or fried chicken. Five meat entrées include a Campfire Pot Roast or BBQ St. Louis-style Pork Ribs. And the two Meatless dishes Spaghetti Squash and Beet Balls or Nashville Hot Portobello Mushrooms of crispy portobello mushrooms. The five seafood entrées include Beer-Battered Fish and Chips, which is delicious; Fish Tacos; and Sesame Crusted Ahi tuna.
Should anyone have any room for a sweet ending to their Lazy Dog meal, the kitchen puts out a Butter Cake with a minted strawberry compote; chocolate brownie sundae; and a pineapple upside down cake, plus two more.
Lazy Dog also offers hefty take-out entrées and weekend brunch cocktails. As for cocktails and other beverages, the restaurant offers a lengthy, two-sided menu from wines, to draft beers to cocktails to sodas and natural drinks.
Note: best bet? make a reservation.
Lazy Dog Restaurant & Bar
14333 Newbrook Dr., Chantilly, VA. Phone: 571-616-9093. https://www.lazydogrestaurants.com/. Check the website for hours.