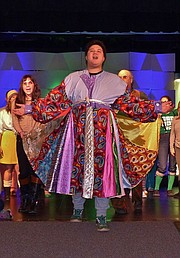 In business since 1982, the Good Shepherd Players is presenting its 36th show, "Joseph and the Amazing Technicolor Dreamcoat," at Church of the Good Shepherd on Braddock Road in Burke.
"It's a musical interpretation of the story of Joseph and his Coat of his Many Colors from the book of Genesis. It's written by Andrew Lloyd Weber and Tim Rice who wrote 'Evita' and 'Jesus Christ Superstar,'" said Director Nancy Lavallee.
In rehearsals for four months, Lavallee said they're doing a modern take on the show, with no spoken dialogue, which is all sung through music and has modern-day rockers, preppies and hippies in costumes. "It's a collection of 20th-century dance styles; we have calypso, tango and a '60s-style twist," she said. "It's very high energy. It keeps moving. It's all music and high-energy dance."
She said the cast of 30 people ages 8-80 are from Good Shepherd and other local Episcopal and Catholic churches and synagogues "that come together in fellowship to use our gifts to put on a show for the Fairfax County community."
THE CHALLENGE is that for some people it's their first show, and for others, they're at a professional level, she said. "To knit people together into an ensemble is always a director's challenge. We have people of varying levels of experience but they all came together very well," she said.
Charlotte Vincent, who is the treasurer of the Production Board and costume manager, said the shows, which are a vital ministry of the parish, are about creativity in the community. "It gives us a chance to build community in the parish. There's a community of people who come to the show every year; it's great, inexpensive family theater."
Howard Lincoln, the Technical Director of the Board who did his first show with "Oklahoma" in 1997, said it's a family-friendly show. "It's a Broadway show at discount prices because we have the lights, the orchestra, the sound. It's always impressive."
He added, "Within the last 10 years, we have blossomed out to the community. We've opened up the productions to anyone in the community and we have people from other churches, other faiths. So, it's become the community theater we've envisioned it to be."
Music Director Mitch Bassman, who is also the music director of the choir at Adat Reyim in Springfield and the principal clarinetist in the Annandale Symphony Orchestra, said they are using a 15-piece orchestra. "The music is fascinating in this show because there's so many different styles. We have a French ballad, '50s rock and roll, a Western song, and Elvis Presley makes an appearance. There's even jazz. The orchestra has to be very flexible to play all of these styles of music," he said. His wife Margie plays the viola in the pit.
Phil Selz, who is also a member of Adat Reyim, plays the role of Naphtali and the baker. "As Naphtali, I'm one of the brothers who plot against Joseph and then try to make up with him at the end. As the baker, I'm one of the prisoners in jail with Joseph and he interprets my dream to let me know that I'm going to get killed. In fact, I'm the only character in the entire play that dies," he said.
He said, "They were looking for a Tenor 1 and I'm a Tenor 2, so I'm singing a little higher. It's been like coming to a theater company. Really, it's a theater company and we've had a great time." He said five people from Adat Reyim are in the show.
Greg LaNave, who belongs to Church of the Nativity in Burke, plays the role of Gad, one of the brothers and one of Potiphar's servants. "I'm one of the brothers who plots against Joseph. There's a solo that I get called 'Those Canaan Days,' and it is in the style of a French Café song. So, I get to sing with a French accent and we get to do a French tango as part of the piece, which is a lot of fun."
He added, "I love this show because it's driven by the ensemble. Really, it's the ensemble that drives the whole thing. That's a challenge because you have to have so many people."
GOOD SHEPHERD was open to having people who are not part of the community here as a way of reaching out in an ecumenical sense, LaNave said, "They have a clear spiritual component to the experience as well, always sharing prayer concerns and praying together before rehearsals."
Lisa Anne Bailey of Manassas, who plays the role of the narrator, said she sings throughout the entire show. "The challenge for me personally is it's a very rangy score, with alto soprano all over the map. And remembering all of the words – It's probably the most wordy role in the show," she said.
She's directed, choreographed, produced, and performed with the Reston Community Players and the Arlington Players, and will be directing "Jesus Christ Superstar" at the Little Theatre of Alexandria in the summer. "I go wherever the show is right for me," she said.
"Joseph and the Amazing Technicolor Dreamcoat," at Church of the Good Shepherd runs Jan. 26, and Feb. 1, 2, and 3 at 7:30 p.m.; and Jan. 27 and Feb. 4 at 2 p.m. Tickets are $15/adults; $10/students. Tickets available online at www.goodshepherdplayers.com/. The venue is the Grand Hall of Church of the Good Shepherd, 9350 Braddock Road, Burke.