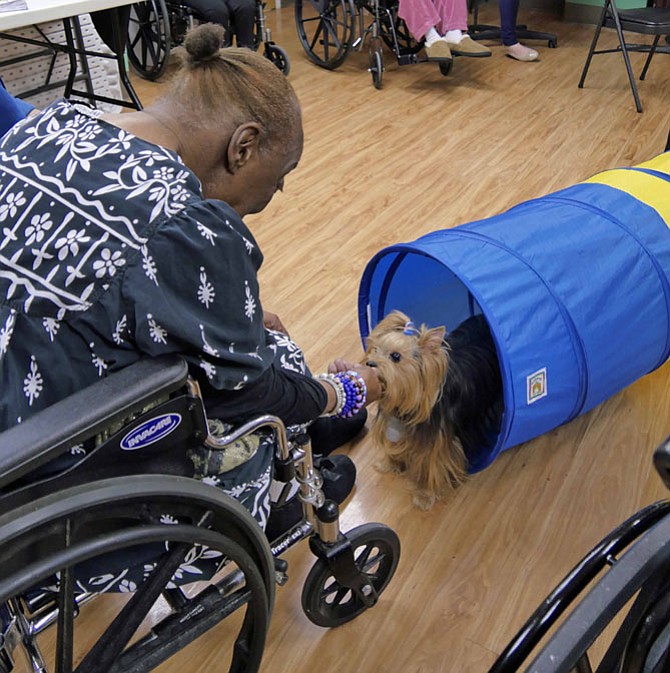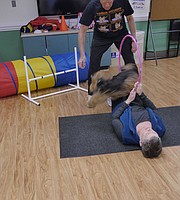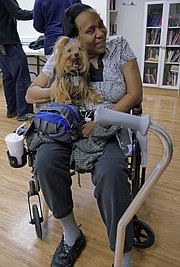 Zoe is prancing around the room sniffing in the corners at Cherrydale Health & Rehabilitation Center waiting for her performance to begin on Jan. 25. "She is a diva," her owner Chuck Toftoy explains.
By way of introduction, Chuck Toftoy tells the circle of wheelchair-bound and walkers in the audience that Zoe is a Yorkshire terrier who is a nationally certified therapy dog. He says Yorkies were originally trained as ratters to go into the mines and get rats.
Chuck Toftoy explains Zoe is scheduled once or twice a week until next December of this year. Zoe performs at senior adult centers, hospitals, rehab centers and nursing homes in the Northern Virginia area. She appears at Cherrydale Rehab on the third Thursday of each month.
Chuck Toftoy holds up the large pink ring, Zoe's first trick. She jumps through the hoop, then back the other direction. The audience claps and yells, "Yeah Zoe." So Zoe does it again. She is rewarded with a small dog treat which Chuck Toftoy explains is organic molasses and peanut butter and very tasty. His wife Patty Toftoy adds, "I tasted one just to see if they are really tasty, and I thought they were pretty bland." But Patty Toftoy does recall one occasion where they had a party on their patio and she had left a bowl of treats there for the dog along with hors d'oeuvres for the adults. She came back and found one of the guests chomping down on Zoe's treats by mistake.
Chuck Toftoy lays out a five-foot long expandable tunnel on the floor and urges Zoe to travel from one end to the other. He says a lot of dogs are afraid of tunnels. Again Zoe goes back and forth to the exclamations of the crowd. "She loves praise," Chuck Toftoy explains.
Patty Toftoy places a large white push button on the floor. "O.K. Zoe, turn it on." Zoe's nose presses down on the button and it lights up. One of the residents exclaims, "Oh, she is so smart."
"Yes, she is my little sweetheart," another adds.
Chuck Toftoy decides to try the command "speak." He says, "She's not too good at that. A loud bark rings out. "Wow, that's the best she has ever done."
A few more tricks and then it is the time everyone has been waiting for. Zoe gets passed around and everyone who wants to hold her gets a chance. Ronda McDonald cuddles with Zoe, her "pretty girl." When it comes time to share Zoe with others in the circle, she smiles and says, "I don't share Zoe."
"Who wants to have Zoe go through the tunnel and you can offer her a treat on the other end," Chuck Toftoy asks. Dorothy Feimster immediately volunteers. Finally it is time for lunch and Zoe's audience is marking down the date for next month's appearance when Zoe will reappear wearing her red Valentine's bow.