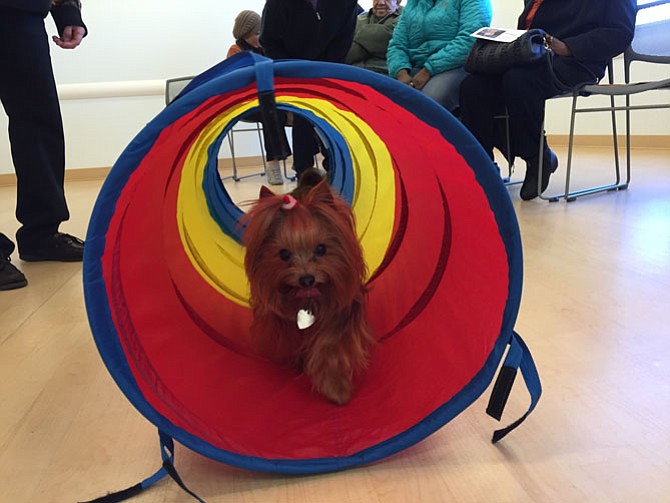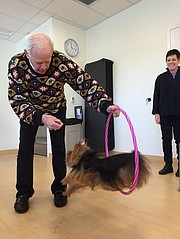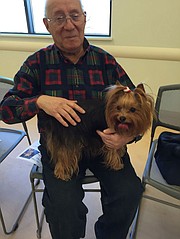 When Charles and Patty Toftoy visit Arlington Mill Community Center with Zoe in their arms, the smiles and laughter begin almost the moment they enter the door.
"Hi Zoe!" says receptionist. Zoe, the 6-year-old Yorkie, wags her tail and prances from side to side. It's show time, and she's ready.
Upstairs, the Toftoys enter a community room, 12 seniors are seated in a half circle. They watch in amusement as Patty Toftoy keeps a hand on Zoe's leash while she darts about and Charles Toftoy sets up. The tricks begin. Zoe charms her audience as she jumps through hoops, runs zigzag through a line of orange cones, sits, jumps and high fives on command. "Good girl," praise Patty and Charles Toftoy. The audience members clap. Zoe knows 12 tricks.
The Toftoys and Zoe are "Helping Paws." It began over 10 years ago, out of a love for their dogs and a desire to make people happy. They have two dogs, Zoe, and an older dog, Sasha. Both are Yorkshire Terriers. Sasha doesn't perform much anymore. "We used to go to senior facilities and let people hold her. But then the dogs started learning tricks," said Patty Toftoy. Soon a full performance was born. Zoe has made appearances at senior adult centers, hospitals, assisted living, nursing homes and rehab centers throughout Arlington County and as far away as North Carolina. They do a show every third Wednesday at Arlington Mill Center and every second Tuesday at Walter Reed Community Center.
"They really enjoy being here," said Emma Valencia, of her senior participants. Valencia is the senior programs coordinator at Arlington Mill Center. She's been working with the Toftoys and Zoe for years, making sure to include them as an option in their senior recreational activities schedule. "They need it. Most of them live alone, " she says.
After the tricks, the couple passes Zoe from hand to hand. Each audience member gets a chance to hold Zoe and feed her a treat. Broad smiles appear on many faces. "I like dogs very much," smiles Salwa Al-kaysi as she holds Zoe. Most can't resist, and give Zoe a warm hug. Zoe, in her element, revels in it all, happy to accept their treats.
"Helping Paws" has their next appearance on Feb. 29 at the Lee Adult Center.