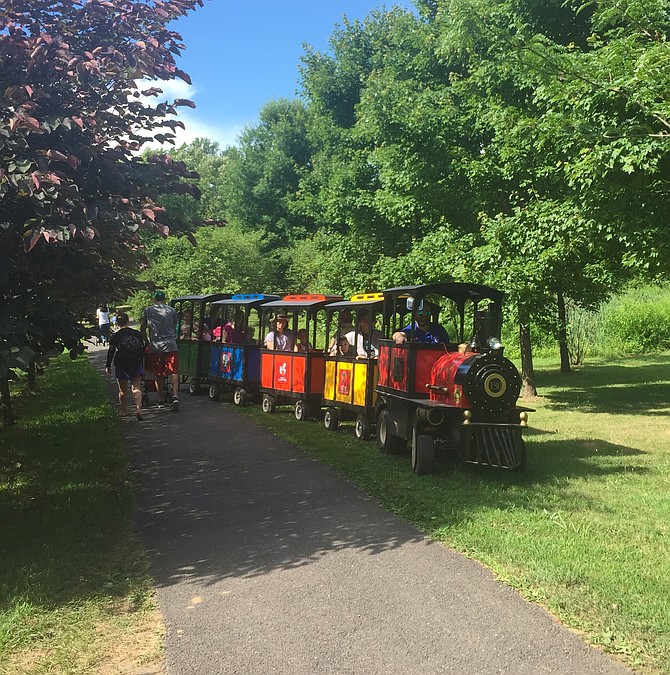 A grinning conductor wove his rubber-wheeled train through the grass to welcome locals into the grounds of Clemyjontri park. Nicknamed "Clemy," the soft rainbow playground is a summer haven for families in the community.
Recently, the park added a trackless train and an additional picnic pavillion. The next project for Clemyjontri will be a new parking lot.
Among the families spending the morning at Clemyjontri on Saturday, July 7 was Sterling mother Nicole Ross.
"It's just an awesome park; it stands out," Ross said. "When people ask 'what are we going to do this weekend,' they say, 'let's go to Clemyjontri!'"
Ross took her family to the park to enjoy beautiful weather. This 70-degree, sunny morning attracted enough visitors to fill both of Clemyjontri's parking lots.
"It's a nice day, and we wanted the kids to play," Holly Jahshan, Vienna consultant said next to a set of monkey bars. "We've had a lot of fun here."
Her 4-year-old son Alexander giggled as he climbed up a bright yellow ladder. "He basically learned how to walk here on the soft ground," Jahshan said.
Clemyjontri is a hotspot for casual gatherings, but also for celebrations.
"The first time we came, it was for his second birthday," Matt Sutor, Fairfax project manager, said as he pointed out his son Teddy. Today, the Sutors celebrated Teddy's fourth birthday at the park.
"This park has become an important piece of the fabric of the community," Judy Pederson, Public Information Officer for the Park Authority said. "It's an ingrained part of the daily experience."
Pederson said Clemyjontri is a hallmark of residents' childhood memories and a unifying factor in McLean with far more power than the average playground.
The park is special for its inclusivity. Clemyjontri includes a wheelchair-accessible swing and carousel, as well as ramps and rubber flooring that wheels can roll on. Low monkey bars and wide openings provide easier access for eager children.
"It was built so children with developmental and sensory disabilities could also have the playground experience," Pederson said. "It's an award-winning, nationally recognized park."