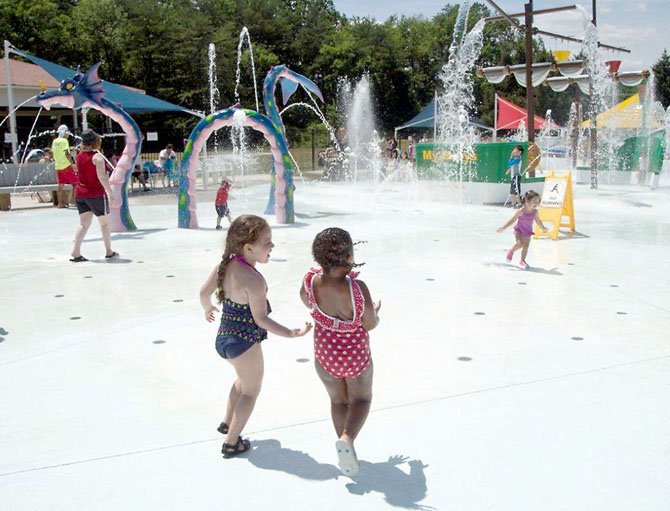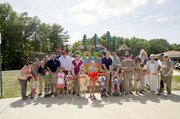 Sunny skies greeted hundreds of children and their families during the June 16 ribbon-cutting ceremony for Chessie's Big Backyard Tiki Village playground, part of the Family Recreation Center at Lee District Park.
The playground, which includes a fully-accessible 2,000-square-foot tree house, complements Our Special Harbor spray ground, which opened last summer.
"The playground is phenomenal. People's jaws drop when they see it," said Supervisor Jeff McKay (D-Lee). "The free Spray Park is already enormously popular. The playground is my district's biggest attraction this summer."
The opening of Chessies' Big Backyard marks the culmination of a collaborative project that brought together the government, the private sector and non-profit organizations. The $600,000 project is funded through private and corporate contributions as well as park bonds.
McKay said Chessie's Big Backyard is just the first of two other playground phases and a fully-accessible carousel and picnic pavilion planned for the site as funding becomes available.
"Chessie's Big Backyard has all the bells and whistles, and, as funding permits, a fully-accessible carousel will grace this plaza as well," McKay said at the grand opening. "I'm proud to have it here."
Next to the playground is Our Special Harbor, the popular Chesapeake Bay-themed water "spray ground." Spray attractions include a water maze with changing patterns, where children can run through the maze's massive columns of water for a solid drenching, water benches, a light house and a skipjack with tumbling buckets and water cannons that children can shoot. Three water-accessible wheelchairs are provided.
Lee District Park is located at 6601 Telegraph Road in Franconia. Due to limited parking, guests are invited to take a shuttle bus from Rose Hill Elementary School, located at 6301 Rose Hill Drive in Alexandria. Shuttle Service will run from 2 p.m. until 5 p.m.