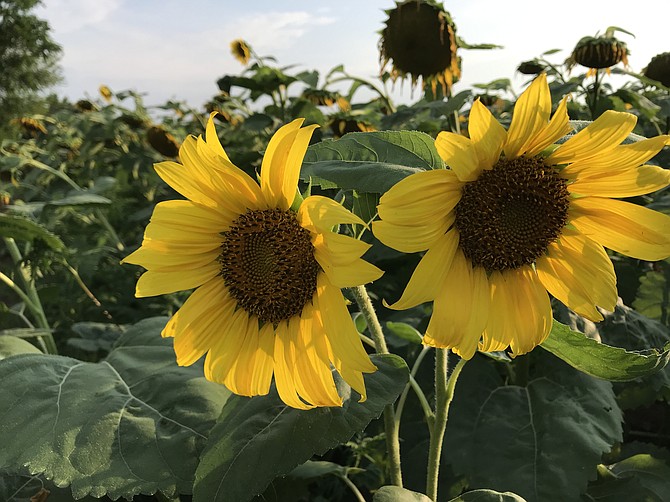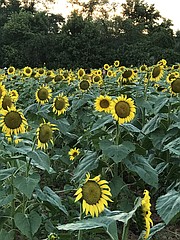 More
Thousands, maybe hundreds of thousands, of sunflowers are blooming right now just off of River Road. Thousands of people looking for a great photograph or views of song birds or just a burst of yellow are coming from across the region to see the spectacle.
The Maryland Department of Natural Resources - Wildlife and Heritage Service plants sunflowers each spring on the McKee-Beshers Wildlife Management Area. The primary purpose for planting sunflowers on wildlife management areas is to provide a food source for mourning doves, as well as other wildlife species, after the plants mature and dry. Mourning doves are hunted at these fields during hunting seasons that traditionally begin on Sept. 1 and continue through early January.
In addition to mourning doves, sunflowers and sunflower seeds are a favorite food source for a host of other songbirds, mammals and pollinators.
Sunflowers require pollination by insects, usually bees, to produce a seed crop. In turn, honey bees and many species of native bees, benefit from the abundant nectar and pollen that sunflowers produce.
The many benefits of sunflowers are lost when they are cut or trampled by people. These sunflowers are planted for the benefit of wildlife and regulations prohibit the cutting, destruction or removal of any plants from these areas. The public is welcome to visit, admire and photograph the sunflowers in bloom. However, visitors must be responsible and ensure that their actions don't have negative consequences.
The 2018 sunflowers were planted on May 3, and they are reaching peak bloom right now as expected in mid-July.
The last couple of years, publicity brought a new popularity to the sunflower fields, with hundreds of people flocking to the fields with cameras in tow. So it's a good time to emphasize a few things.
RULES:
Destruction or removal of any plants (including sunflowers) is strictly prohibited.
Parking is only allowed in designated parking areas.
Do not block gates. Violators may be towed and ticketed.
Driving is only allowed on main roads (River Road, Hunting Quarter Road, and Sycamore Landing Road). Only authorized or emergency vehicles allowed behind gates.
Dogs are allowed, but must be leashed.
Wildlife Management Areas are trash-free. No trash cans are provided. Take all trash with you.
TIPS FOR A SUCCESSFUL VISIT:
McKee-Beshers WMA has no bathroom facilities, no benches and no picnic tables. Plan accordingly.
McKee-Beshers WMA is home to ticks, mosquitoes and poison ivy. Lots and lots of mosquitoes. Long pants and shoes are recommended. Bring insect repellent.
The sunflower fields can be hard to find. Use the map above to help navigate to the fields.
Bring a step stool along to get a higher vantage point for photographs.
DIRECTIONS:
From the Capital Beltway, take Exit 39 (River Road) west toward Potomac. Proceed for approximately 11 miles to the intersection of River Road and MD 112, Seneca Road. Turn left and continue on River Road for about 2 1/2 miles. McKee-Beshers will be on the left as you head west on River Road.
GPS Coordinates of sunflower fields:
Field 1 (River Road) - N39.080050, W-77.374460
Field 2 (Hunting Quarter Road) – N39.079172, W-77.388253
Field 3 (Sycamore Landing Road) – N39.084146, W-77.413121