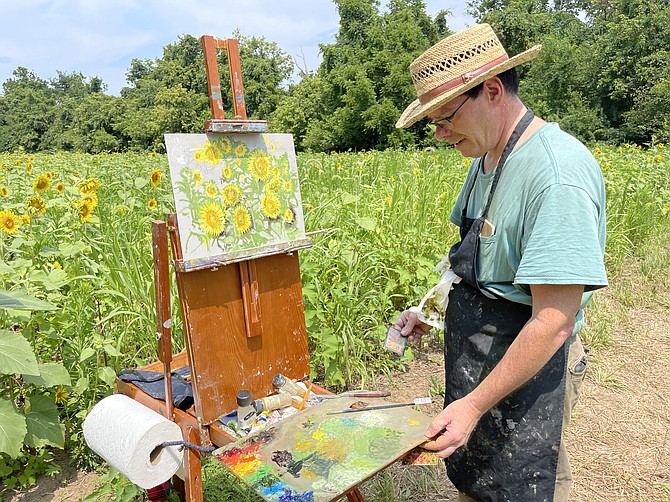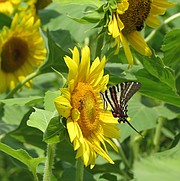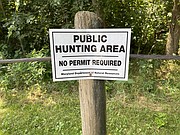 For Poolesville artist James Vissari, the annual blooming of the sunflowers at McKee-Beshers is a time to paint.
"Even in the heat and humid sun beating down on me, the entire experience sets me free," Vissari says in his Facebook post.
The Maryland Department of Natural Resources – Wildlife and Heritage Service plants sunflowers each spring on the McKee-Beshers Wildlife Management Area. The primary purpose for planting sunflowers here is to provide food for mourning doves, as well as other wildlife, after the plants mature and dry. Mourning doves are hunted at these fields during hunting season that traditionally begins on Sept. 1 and continues through early January.
In addition to mourning doves, sunflowers and sunflower seeds are a favorite food source for a host of other songbirds, mammals and pollinators. Sunflowers require pollination by insects, usually bees, to produce a seed crop. In turn, honey bees and many species of native bees benefit from the abundant nectar and pollen that sunflowers produce.
The many benefits of sunflowers are lost when they are cut or trampled by people. These sunflowers are planted for the benefit of wildlife and regulations prohibit the cutting, destruction or removal of any plants from these areas. The public is welcome to visit, admire and photograph the sunflowers in bloom. However, visitors must be responsible and ensure that their actions don't have negative consequences.
Visitors are welcome at McKee-Beshers Wildlife Management Area any time of day but no overnight camping is allowed. There is no fee or permit required to access the property.
After the sunflowers are done blooming and seeds are mature in early to mid-August strips are mowed through the sunflowers to scatter the seeds on the ground where they are more accessible to mourning doves and other wildlife.
Area Regulations:
Destruction or removal of any plants (including sunflowers) is strictly prohibited.

Parking is only allowed in designated parking areas.

Do not block gates. Violators may be towed and ticketed.

Driving is only allowed on main roads (River Road, Hunting Quarter Road, and Sycamore Landing Road). Only authorized or emergency vehicles allowed behind gates.

Dogs are allowed, but must be leashed.

Wildlife Management Areas are trash-free. No trash cans are provided. Please take all trash away with you.

Commercial activities are prohibited.
Tips for a successful visit:
McKee-Beshers WMA has no bathroom facilities, no benches and no picnic tables. Please plan accordingly.

McKee-Beshers WMA is home to ticks, mosquitoes and poison ivy. Long pants and shoes are recommended.

Please note that trails are unmanicured dirt or gravel that can be rough or muddy and may be unsuitable for strollers.​

Use the map to find the field you want to visit. The field at the end of Sycamore Landing Road is easy to access.
https://dnr.maryland.gov/wildlife/Pages/publiclands/central/sunflowers.aspx